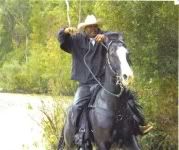 Domestic violence is a cause that is dear to D.C. area horseman Mr. Morris, the founder and former President of the Rough Riders and East Coast Rough Riders horse clubs located in Prince George's County, Maryland. Also known as the "Metropolitan Cowboy", Morris is riding 1,641 miles on horseback from Portland, Maine to Jacksonville, Florida for the
"Saddle Up 4 Good"
Horse Ride, to help raise $50,000 for Doorways for Women and Families, a shelter that aids victims of domestic violence and their families located in Northern Virginia.
Mr. Morris says,
"My mother had to change her identity and move in order to escape the abuse. No woman is immune to the risk of being abused, and no one should have to endure it. We must raise awareness of one of the greatest stains on our society."
Ray Charles Lockamy, also a D.C. area horseman who is completing the trail ride with Morris, are determined to complete the ride in order to put a stop to domestic violence.
"Every nine seconds in the United States, a woman is beaten; yet there are only 1,500 shelters for battered women
,
"
says Linda Dunphy, Executive Director of Doorways for Women and Families.
Supporters can keep track of the riders' location using GPS technology, contact them via e-mail, or make a donation to the cause via
http://www.saddleupforgood.com/
. A $1 donation will provide membership to the cause, and keep the horses fed during the journey. (Be sure to read their blog, which has well wishes from people they met along their journey!)
In addition to supporting domestic violence, the horse ride will also benefit the
Bill Pickett Invitational Rodeo Scholarship Fund
, which supports causes pertaining to youth outreach and prison reform.
The
Bill Pickett Invitational Rodeo Series
, which is the first of its kind, brings an important element of Black Western Heritage into our present day experience by entertaining audiences all across America. (In other words, it's a black rodeo! Yee Haw!) Visit the website for more information on Bill Pickett and the rodeo
here
. Upcoming cities include Bakersfield, CA; Los Angeles; Atlanta; Washington, D.C.; and Las Vegas.
To learn more about Mr. Morris, visit
http://www.dmvcowboy.com.
Source: Press release