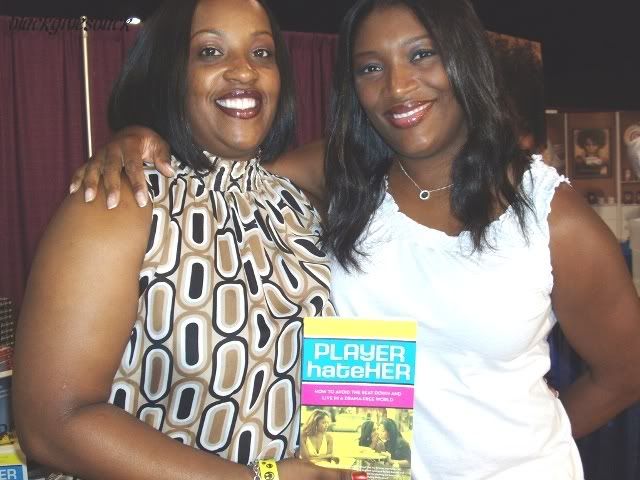 The
National Black Arts Festival
(NBAF) is a year round celebration of dance, music, art, theater, film and visual and literary arts of African American and African culture. This year, the festival celebrated its 20th anniversary in Atlanta, July 18-27th, that featured film and theater performances, workshops, education and family programs, literary events and many more fun and enriching activities. In the photo above are best friends Katrina R. Chambers and Tamara "Taj" Johnson George, authors of the book "
Player hateHER
".
Tamara is best known as one third of the 90's multiplatinum group SWV - Sisters With Voices. The book shows women why they hate on one another, and, most important, how they can stop. They state its a much-needed lesson in respecting one another and respecting yourself.
They participated in the NBAF Market and Literary salon that showcased authors and independent African and African American artists. This event allowed budding art collectors such as myself to meet the artists and gain an understanding of their inspiration and their process for creating art. Let's take a look at some of the artists who caught my eye: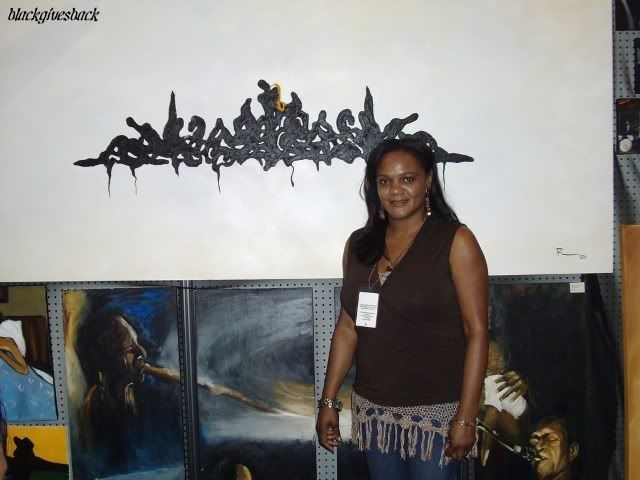 Rhonda Henry
is an artist based in High Point, NC and her paintings are inspired by the music of African American jazz artist John Coltrane. She remembers the day when she first heard John Coltrane's "A Love Supreme" album. She says,
"It was like all of John's spirituality and verve were speaking directly to my soul, and when he played his music, I saw images, shapes and colors. It was one of the most singularly profound moments of my life."
Visit Rhonda's website
here
.
Monique Luck
is a self taught artist who uses color to connect with each piece that she creates, and she says that each piece is deeply personal to her. Monique shares,
"Each piece defines a moment and a memory. Each piece represents another step in my life. Sometimes my favorite pieces are those created during the hardest personal times. I create my art to help me get through, and somehow, it always does."
In addition to creating original art, murals and commissions, Monique gives back to her community. In 2006, she was honored by the Women and Girls Foundation of Pittsburgh for her mural work with schools and businesses. Monique is now based in Charlotte, NC.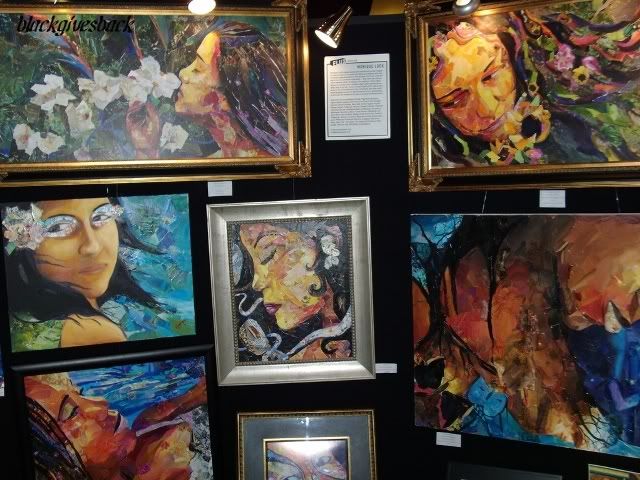 Monique's artwork is stunning, my photos do not capture the intricate detail that she puts into each piece. On one painting that I particularly liked, Monique used little pieces of paper and sprinkles of glitter! For more information on Monique's art, and to view photos of her murals, visit her website
here
.
As I stood near
Nnamdi Okonkwo's
booth admiring this monumental sculpture, he smiled and said, "Come on up and touch it! It's solid brass!" Based in Fayetteville, GA, Nnamdi is inspired by womanhood, which was prevalent in most of his sculptures on display. He says,
"I am captivated by the noble characteristics which include: empathy, love, resilience, strength, etc., that are embodied in womanhood. The women that are closest to me, my wife and my mother, have influenced me greatly and are exemplars of these noble attributes."

Visit Nnamdi's website
here
.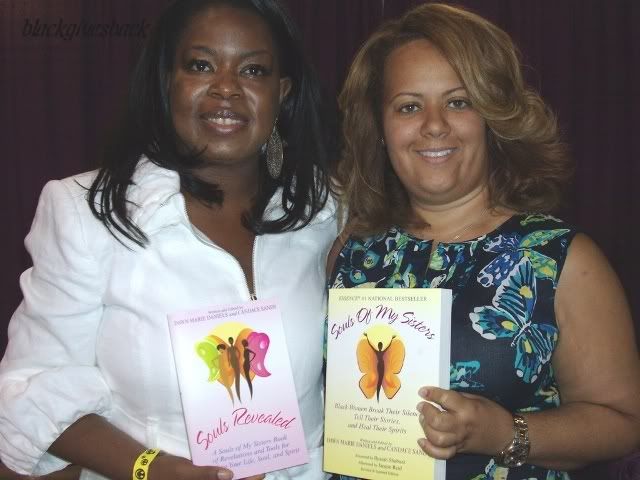 During the Literary Salon, media consultant
Candace Sandy
, and literary agent
Dawn Marie Daniels
, presented a great and informative panel discussion providing tips for new and emerging authors. They are authors of the book,
Souls of My Sisters: Black Women Break Their Silence, Tell Their Stories and Heal Their Spirits
. The book, which has been on Essence magazine's best seller list, encourages women to do soul searching as black women have one of the highest rates of depression in the country. Be on the lookout for an upcoming book giveaway from these two dynamic women! Visit their website
here
.
In all, it was a great event and it really helped me to understand the process of purchasing orginal art. Be sure to check out their websites!