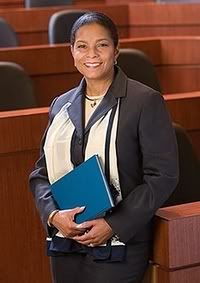 Meet
Dr. Risa Lavizzo-Mourey
, the first African American and first woman, to head the
Robert Wood Johnson Foundation
, which is the largest philanthropic foundation dedicated to healthcare in the U.S.
Originally from Seattle, Washington, Dr. Mourey received a M.D. from Harvard Medical School and a MBA from the University of Pennsylvania's Wharton School of Business.
In addition to serving as President and CEO at the foundation, she also makes time to practice medicine at a community health clinic in New Jersey.
Dennis Nishi of the Wall Street Journal.com recently met with Dr. Mourey to talk about her career path, what skills you need to work in philanthropy and why its important for the medical profession to bring back house calls. Snippets from the article:
"Skills you need:
Foundations need collaborators, strategic thinkers, problem solvers and innovative leaders
, she says. "
Collaboration is essential for a leader in philanthropy. Our role is often to serve as a convener working with both businesses and the government to affect change,"
says Dr. Lavizzo-Mourey.
A leader in philanthropy also needs to be strategic
, she adds.
Where you should start: Most executives in philanthropy start and develop expertise in another field and then bring that expertise to philanthropy.
"I encourage people to follow their passion and along the way become a student of social change,"
she says."
During medical school, Dr. Mourey's specialty area was geriatrics. She shared a story about an older patient and why doctors need to bring back house calls:
"One situation that gave me real insight into how the environment we live in affects our health in profound ways was a house call to an older patient. It was around holiday time and I was making frequent visits to make sure she was doing well. Older patients who live alone can become depressed. I noticed she was losing weight and there wasn't a good reason. She was getting Meals on Wheels but they only come once a day and don't provide any extras that you may need to keep your weight up. When I asked her about it, she didn't have a good reason why she was losing weight. So I asked to look in her refrigerator and saw it was empty. This woman had to rely on the system, she had no family to help her do things like go shopping. These are things we take for granted."

Read article
here
.
Photo: Wsj.com