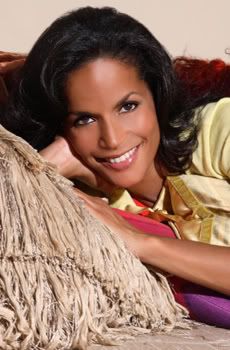 Evidence
, a Brooklyn, New York based dance company, will hold its 5th Annual "On Our Toes" summer benefit in Bridgehampton, NY, on August 23rd. This premier African American cultural event in the Hamptons will include a cocktail reception, dance performance and a "Dancing with the Dancers" post event party. Writer, producer and activist Crystal McCrary Anthony (in photo) is honorary chair and TV personality René Syler is mistress of ceremonies.
Evidence was founded in 1985 under the artistic leadership of choreographer Ronald K. Brown. In addition to touring across the U.S. and overseas, the company supports community outreach activities and educational programs for dance enthusiasts of all ages. Evidence's mission is to help promote understanding about the human experience by providing sensory connections to history and tradition, and incorporates music and the spoken word to delve deeply into issues of spirituality, community responsibility and liberation.
The company hosts two major fundraising activities each year: The Winter Gala held at the Millennium Broadway Hotel in Manhattan and "On Our Toes" in the Hamptons, the company's annual benefit performance. The Hamptons benefit was initiated by Evidence Board Chair
Reginald Van Lee
of Booz Allen Hamilton and
Susan Taylor
, former editorial director of Essence Magazine.
This summer benefit has had a history of attracting prestigious audiences and is comprised of philanthropists and corporate America's most influential senior executives, as well as celebrities. Past attendees have included actor Danny Glover, Robin Roberts, TV personalities Andrea and Maurice DuBois and Loida Nicholas Lewis. Individual tickets are $500.
On the web:
http://www.evidencedance.com/
For more information, contact Andrea Hoffman at
andrea@diversityaffluence.com
.