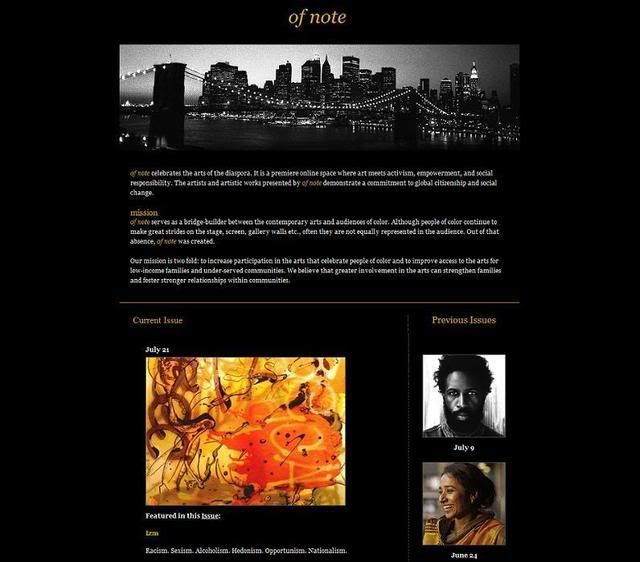 of NoteMagazine.org
is an online space where art meets activism, empowerment and social responsibility. The founder, Grace Aneiza Ali, states that although people of color continue to make great strides on the stage, screen and gallery walls, often they are not equally represented in the audience.
Their mission is to increase participation in the arts that celebrate people of color and to improve access to the arts for low-income families and under-served communities; believing that greater involvement in the arts can strengthen families and foster stronger relationships within communities.
From Uptown Flavor: The chic weekly online magazine offers a listing of socially-conscious, arts-related cultural events throughout the New York metropolitan area.
Grace shares, "For people of color living in under-served communities, access to the arts goes beyond entertainment. It is critically important that members of our community, both adults and youth, are motivated to value the arts as a tool of empowerment - professionally and educationally." It was that belief that became the foundation of her mission.
As a result,
of note
has gone beyond the pages of the virtual world and has reached out to the Harlem community, developing partnerships with community-based organizations working in the areas of arts education, youth and family services, and private low-income housing development companies. Through their initiative, "Art Experiences," they sponsor tickets to notable performances and provide transportation and dinner for low-income families living in Harlem.
Visit their website
here
and blog
here
.
Thanks to
UPTOWNflavor
for the hat tip!