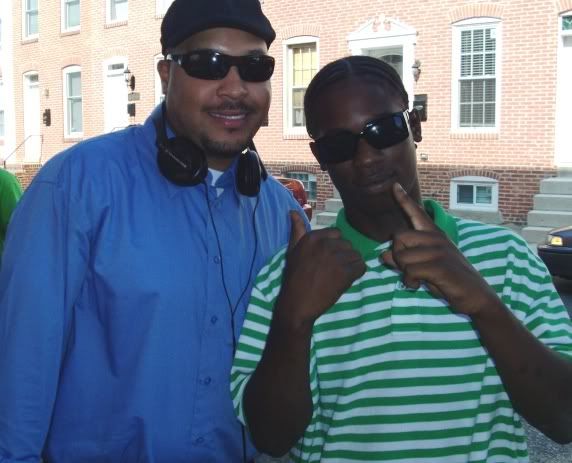 In 1989, Black Entertainment Television (BET) premiered the talk show Teen Summit, which featured a group of teens called the 'teen posse', discussing issues they faced at home, in school and their communities. The successful show was spearheaded by Rodney Wooten and BET co-founder and philanthropist Sheila Johnson, who shared last year, "….I wanted to make sure that our young people were really receiving the right message. That's when I decided to do Teen Summit because, you know, there was the birth of music videos that were going on." The show ended in 2003.
Washington, D.C. native Damond Gordon was one of those young people that received the right message. As a teen, Damond participated on the show as a posse member - and he watched what went on behind the scenes, learning writing, television production and technical aspects. Upon graduation from D.C.'s Wilson High School (my alma mater!) in 1993, Damond enrolled in college at Bowie State University in Maryland. He then enrolled at Towson University, earning a master's degree in film making. For a short time after college, Damond worked in education as a teacher. In the photo above with Damond is 17-year old Kyle (pictured at right), aka Lil' Temy, a former student of his.
Although Damond took his teaching job seriously serving as a mentor to his students, writing short stories and film making was his passion. This led him to HBO's critically acclaimed show 'The Wire' working set production, as well as other projects including the films
Step Up 2
, Chris Rock's
Head of State
and the television show
The District
. Fast forward to today, Damond is filming his first and biggest production, 'The Rothstein Diamond'. He saved for a year to bring his vision to life, a story about two of the most notorious female thieves Washington, D.C. has ever seen. About the film:
The film is set against the backdrop of the district's tony Georgetown neighborhood, where Sydney Spriggs and Bianca Graham are two women that are forced into a life of crime. Strategically hitting up small area stores, the women seem unstoppable, until a heist goes wrong leaving someone dead with a dirty cop on their trail. Sydney and Bianca are offered two choices, jail, or steal one of the most sought after diamonds in the world, the Rothstein Diamond.

The film stars Byata (Vh1's Miss Rap Supreme) as Sydney and Candace Sholz as Bianca, Roger G. Smith (American Gangster) and Erik Todd Dellums (Dr. Doolittle).
BlackGivesBack was on the scene as Damond wrapped up filming in Baltimore this past weekend and spoke to a few of the film's cast members. Roger G. Smith, a veteran of films who has appeared in many Spike Lee productions and in the film American Gangster, says that Damond is "the next big thing". The film also features Lil' B. Sure of MTV's Rock the Cradle (the son of singer Al B. Sure) who is starring in his first acting role, and rapper/actress
Lin Que
, formerly known as Isis from the 90's rap group X-Clan.
As for Lil' Temy pictured with Damond above - he has a role in the film also. Damond kept in touch with Lil' Temy throughout the years and still serves as a mentor to him. Lil' Temy told me he dropped out of high school but he's returning this fall to get his diploma – in fact he shared he wouldn't leave school without it. With Damond as his mentor, I'm sure he'll succeed.
{Special thanks to Tamiko and Neeta of Ideal PR and Barbara J.}