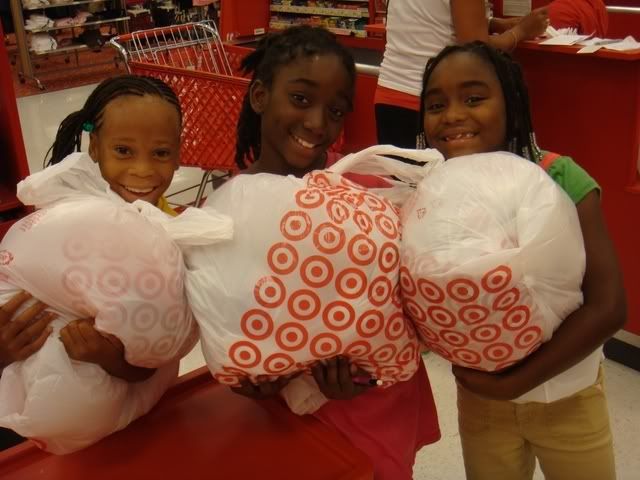 It's that time of year again – back to school! As our precious students start the new school year, it's my hope that all of you reading this will get involved in your community this year, making sure that our youth do well in school and graduate. You can join your local PTA, become a mentor, or provide a student with school supplies and clothing. In the photo above are Honey Bugs Felicia, Jah-Dai and Khyaura from the
Honey Shine Mentoring Program
on a back to school shopping spree at Target.
Seventy young girls each received a $75 gift card to shop for back to school items. Not only was this activity fun for the girls, but educational as well. The girls were taught how to spend their money wisely and were even given calculators to double-check their math and make sure they didn't overspend. Honey Shine volunteers paired up with the young girls to help them find the best deals. This is just one way you can support our children as they head back to school. Read below for additional ways that you can give back this school year:
ADOPT A STUDENT!
Allow me to introduce you to 18-year old Chelsea Doub, a freshman at Penn State whose ultimate goal is to become a doctor. Like many students entering college this fall, Chelsea has received a few monetary scholarships, but she still is in need of additional assistance to cut the costs of tuition and housing. As African American youth only have a 50% chance of graduating from high school, what about those who do graduate and go on to college? Although the number of African Americans attending college has risen in the last two decades, they are less likely to graduate.
I was inspired to adopt two college students this year from an article I read in a Detroit newspaper. The article shares how an eight-year old set up a lemonade stand to raise money for his church's scholarship fund. But what stood out to me was how the scholarship fund worked:
From
Freep.com
:
"The scholarship is for college students who are members of the church and enrolled in school full-time. After graduation from high school, church members receive a one-time gift of $50 from the scholarship fund. Once they enroll in college or a post-high school program, they are eligible to receive $75 a month for up to five years. Currently, 14 students receive scholarships.
"I noticed that young men -- not just at our church, but young men everywhere -- were not graduating from high school like the young ladies. I heard a voice from God and talked to my husband about it, and we decided to create the scholarship," said Amy Jackson, 71, who lives in Detroit."
One student shared in the article,
"It was very special to me because I wasn't sure I was going to school," said Frye, 22,
an interior design student from Detroit
. "It has helped me pay for books, my cell phone bill and, as an interior design student, I have a lot of extra fees, so it has helped pay for fabric, sewing equipment and art supplies."
I picked Chelsea to 'adopt' because in addition to her academic and athletic achievements, she makes giving back to her community a priority. She was named as a spokesperson and Youth Volunteer of the Year for the American Red Cross, has mentored inner city youth in the game of soccer for the past 11 years, and has filmed a 30 second public service announcement to promote volunteerism that is airing throughout the state of Pennsylvania this year. Way to go Chelsea! As you can see from this article, every little bit of money counts. So consider adopting a student in your community this year.
ADOPT A SCHOOL!
Help a teacher in your community by donating funds to purchase supplies that will enhance student's learning experiences in the classroom. Many teachers would like to supplement their instruction with field trips and other activities to make learning fun, but schools in low income areas just don't have the money. One of my favorite charities is Donors Choose. By visiting the
website
, you can select your state/city, and browse projects that are submitted by teachers to help fund.
In related news,
New Leaders for New Schools
, a national non profit, is targeting the Houston, Dallas and Atlanta areas to seek talented, diverse, and passionate individuals to serve as exceptional school leaders in New Orleans' public schools. Over the next 3 years, New Leaders will recruit and train as many as 40 highly motivated new principals to lead the majority of public and public charter schools in New Orleans.
Since Hurricane Katrina, New Orleans has been presented with a historic opportunity to transform its school system in a thoughtful way. Great schools need great leaders, but they are in desperately short supply in New Orleans. The current shortage is poised to become an even bigger problem as more families return to the city. Dedicated individuals can help solve that problem by joining the drive to provide the quality leadership needed to transform New Orleans' public schools. New Leaders is currently recruiting its next class of leaders to train during the 2009-2010 school year.
For more information, visit their website at
http://www.nlns.org/
.
VOLUNTEER!
You can volunteer at your local school to serve as a chaperone on field trips, become a tutor, or mentor a group of youth by taking them on fun, educational trips that are free. Are you a business leader or professional in your field? Invite a group of youth to your business or office for a career day activity.
Let's make this a great school year!