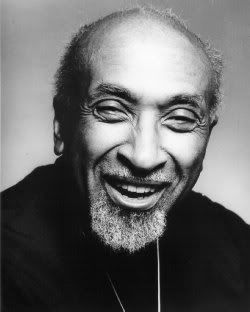 The prestigious Juilliard School in New York is probably one of the most well known performing arts institutions in the world. Founded in 1905, the school offers undergraduate and graduate study in music, dance and drama. But getting accepted into Juilliard is not easy. According to U.S. News.com via Wikipedia, Juilliard has the lowest acceptance rate in the U.S., followed by Yale and Harvard universities. Among its notable African American alumni include Miles Davis and Wynton Marsalis, two famous jazz trumpeters – and
Luther Henderson
.
Luther Henderson was one of the first students of color to attend Juilliard. He was an acclaimed composer, arranger, musical director, orchestrator and performer. Born in born in Kansas City, Missouri in 1919, his parents who were both teachers, believed education was of the utmost importance. His family moved to New York when Luther was four years old after his older sister was accepted into Hunter High School. They took up residence in the Sugar Hill neighborhood of Harlem near Duke Ellington's family, whom Luther would later become great friends with and collaborate with for many years.
Luther began playing piano from an early age and though he went on to major in mathematics at City College of New York, his passion for music remained constant. He auditioned at Juilliard and was accepted into the music division. He graduated in 1942 and was drafted into the US Navy. There he became an arranger with the Navy jazz band until the end of World War II.
Henderson's work graced the bandstand, the Broadway stage, the big screen, television and the recording studio. Henderson's historic Broadway credits include:
Ain't Misbehavin'
,
Jelly's Last Jam
,
Lena Horne: The Lady and Her Music
,
Purlie
, and
Funny Girl
. In those early years, Broadway composers and producers specifically sought Henderson's influence because they wanted to spice up the 'great white way' with the complex rhythms of jazz. Luther Henderson's innovations paved the way for many illustrious careers.
Luther Henderson passed away in 2003, but his legacy lives on through the
Luther Henderson Scholarship Fund
(LHSF), established by his widow, actress/director Billie Allen-Henderson (in photo at right).
With the support of Honorary Chairs
Governor and Mrs. David Paterson
and the guidance of an outstanding advisory committee including
Phylicia Rashad
,
Brian Stokes Mitchell
,
Regina Carter
and
Lilias White
, the fund's goal is to endow five music scholarships for students of color at the Juilliard School. The fund aims to encourage music participation by minority students by showcasing a real-life success story that they can identify with – the life and music of Luther Henderson – and by providing much-needed financial and mentoring support.
Billie Henderson wants to not only provide the opportunity for young students of color who want to study orchestration, arranging, conducting and composition, but also to support higher education in music to ensure that future generations of musical artists will continue this tradition.
This fall, the LHSF will host a series of events to raise funds, including an all-star benefit in October.
'The Celebration of the Life and Music of Luther Henderson'
will begin on October 5, 2008, with a "Sunday Supper at George's." Billie Allen-Henderson, along with acclaimed writer/director George C. Wolfe will host an intimate dinner at Mr. Wolfe's Manhattan home.
On October 6, 2008, there will be an all-star benefit concert titled
"Spreadin' Rhythm Around"
at Juilliard's Peter Jay Sharp Theater. The gala concert will be directed by Tony Award winner George C. Wolfe, and will showcase a sequence of Luther Henderson's music, with performances by many great artists who worked with Luther during his illustrious career, such as Nancy Wilson, the Canadian Brass Quintet, Savion Glover, Hank Jones and others to be announced.
Following the gala concert, there will be a VIP reception hosted by Governor and Mrs. David Paterson, Billie Allen-Henderson and George C. Wolfe, along with special guests from Juilliard, Broadway and the music community.
Tickets for the gala concert at Juilliard will be available beginning September 3rd through the Juilliard Box Office and on
http://www.lutherhendersonscholarshipfund.com/
(Note: Website will be up soon). For more information on the LHSF and the fall gala events, contact
nicola@parishpr.com
.
Photos: The HistoryMakers and Canbrass.com
{Thanks Nicola}