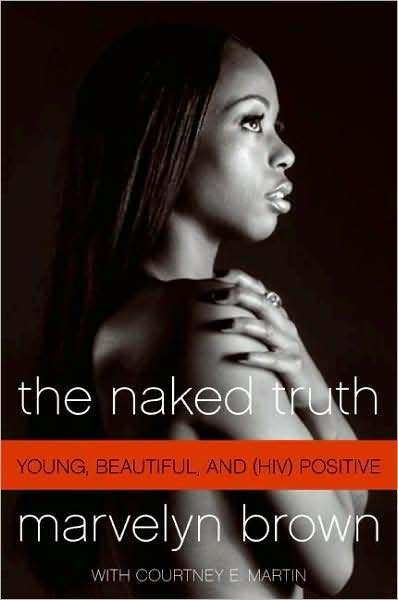 African American women are contracting HIV at alarming rates. Statistics show that of all new AIDS cases among women, 66% are African American. And among youth? Sixty nine percent (69%) of all new AIDS cases among teens are African American.
At the age of 19, Marvelyn Brown, a young African American woman, contracted HIV from a man she called her prince charming. Refusing to let the diagnosis take a hold of her life, she serves as an advocate and inspiration for youth living with HIV/AIDS by traveling the world, sharing her story and message of prevention: Get educated and get tested.
If you watched CNN's Black in America series, you may recognize Marvelyn as she was interviewed by Soledad O'Brien for the black families segment. She has had many other television appearances, among them the Oprah Winfrey Show, MTV, BET and The Tavis Smiley Show.
Marvelyn will surely reach an even wider audience with her story in her new memoir,
The Naked Truth
that is being released today.
About the book: "At nineteen years of age, Marvelyn Brown was lying in a stark white hospital bed at Tennessee Christian Medical Center, feeling hopeless. A former top track and basketball athlete, she was in the best shape of her life, but she was battling a sudden illness in the intensive care unit. Doctors had no idea what was going on. It never occurred to Brown that she might be HIV positive.
Having unprotected sex with her Prince Charming had set into swift motion a set of circumstances that not only landed her in the fight of her life, but also alienated her from her community. Rather than give up, however, Brown found a reason to fight and a reason to live.
The Naked Truth
is an inspirational memoir that shares how an everyday teen refused to give up on herself, even as others would forsake her. More, it's a cautionary tale that every parent, guidance counselor, and young adult should read."
In a recent interview with the Kaiser Family Foundation, Marvelyn shares that she faces constant stigma and is accused of glamorizing AIDS. A recent entry on her blog is titled
'HIV Sucks, I Swear!'

"I am constantly being accused of glamorizing AIDS. Really??? Because as glamorous as I am (I prefer the word Marvelous by the way, but whatever) there is nothing glamorous about HIV. Including the thoughts and fears that race through my head DAILY.
You want to know what my worst fear is besides that one day the medicines that I take could stop working, or that there will never be a cure for AIDS, or that I will always be judged for something I have and not who I am. And let me not forget about the day that I can't afford health insurance. My worst fear is catching a disease that I have no control over getting, like a form of cancer. HIV is bad enough on its own, oh trust it don't need no side kick. Also, There is also nothing glamorous about taking 7 HORSE pills that still make me gage after 4 1/2 years taking them. I take them until the point that my eyes water. I actually use my pill taking as a make-up remover. You see every night before I go to bed or around 11:00 pm Eastern Time it is Marvelyn's Medicine Time. So after a long day of long lasting mascara, I simply take my pills and my mascara begins to loosen up and then starts to run. What is GLAMOROUS about running mascara people? I contracted a 100% PREVENTABLE disease people, which that is my message, not how glamorous I look doing it! That's what wrong with people now. Shame on you! Lol. Bottom line, HIV sucks, I swear!"
Visit Marvelyn's blog
here
for upcoming book signing locations.

The Naked Truth is available at Amazon and other national book retail outlets.