Chances are if you live in or have visited Charleston, South Carolina, you've seen the work of
Philip Simmons
. As a nationally renowned African American artisan and blacksmith, Simmons' intricate ironwork can be found on historic properties all throughout the city – over 500 creations of gates, windows, fences, doors and more. You could say that Philip Simmons created Charleston by hand.
Born in 1912, Simmons dropped out of school at the age of 12 to learn the craft of ironwork. For thirty years, he apprenticed under a former slave, Peter Simmons (no relation) becoming skilled in ornamental ironwork. Simmons uses designs such as animals and trees to create award winning creations which have earned him many accolades, most notably, being named as a National Heritage Fellow from the Smithsonian Institution, the highest honor that the United States can bestow on a traditional artist.
In the photo above, Simmons stands in his home workshop that has been named as one of America's 11 Most Endangered Historic Places by the National Trust for Historic Preservation. It is the same workshop used by his mentor, who died in 1952.
Simmons has created so many designs in Charleston, that he can't remember them all. So in 1992, a group of dedicated citizens established the
Philip Simmons Foundation
to help Simmons locate all of his creations and to develop and maintain a garden in his honor to preserve his legacy and craft. He is considered the last of his breed of African American blacksmiths.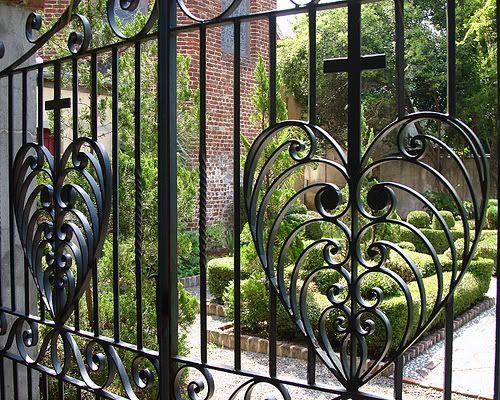 At the age of 96 (he just celebrated his birthday this past June!) Simmons is happy to welcome students and visitors to his workshop although it needs to be preserved. The workshop has no interior walls or insulation and is not anchored, making severe weather and hurricanes a constant threat. The Foundation has as its goal to raise funds to preserve his workplace so that Simmons can continue to live at the home he's known for nearly 50 years.
For more information on Philip Simmons and the Foundation, visit the website
here
.
Photos: Nea.gov; flickr