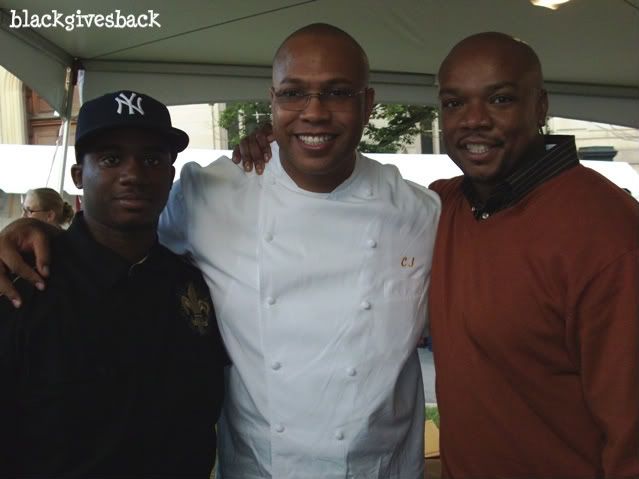 Chef Jeff Henderson (center) with Baltimore resident Kevin (left) and Aaron McCargo, Jr., the Next Food Network Star Season 4 winner at the Baltimore Book Festival, September 28, 2008
The Baltimore Book Festival was held this past weekend that featured many exhibits, literary salons and author signings. One of the authors who participated this year was
Chef Jeff Henderson
, writer of the New York Times bestseller,
Cooked: From the Streets to the Stove, from Cocaine to Foie Gras.
For those of you who aren't familiar with Jeff's story, the memoir chronicles his rise from a ten year federal prison sentence for drug dealing to become the first African American chef named "Chef de Cuisine" at Caesars Palace in Las Vegas. You could say that his prison sentence gave him a new start - cooking. He was assigned the task of dishwashing which gave him an inside look in the prison kitchen where he watched the inmates cook meals. He decided that upon his release from prison, he would become a chef. Through determination, he worked his way up from being a dishwasher to become a cook at some of LA's best restaurants.
Chef Jeff understands firsthand the hardships that our youth face today. During his cooking demonstration at the book festival (he made corn chowder with crabmeat!), he excitedly talked about his upcoming reality show, The Chef Jeff Project, that will premiere on the Food Network in October.
He shared that when the cable channel contacted him about creating his own show, he could have sold kitchen supplies or hosted his own cooking program, but Jeff told the executives, "I want to make a difference, I want to give back".
In the reality show, Chef Jeff takes six at-risk young adults and puts them to work in his catering company, Posh Urban Cuisine. He arms them with the knowledge, the skills and, ultimately, the opportunity for a new life with a culinary career. He also serves as a public speaker and mentor for many youth, especially those in juvenile detention centers. In the photo above with Jeff is Kevin, a young man who wishes to become a photographer. Last year, when Jeff heard this, he went to the nearest ATM and withdrew the maximum of $300 to give to Kevin's caseworker so he could purchase a camera. Also in the audience was Aaron McCargo, Jr., winner of the Food Network's Next Food Network Star, Season 4. His show, Big Daddy's House has been renewed for 13 episodes beginning in January 2009.
Besides his new reality show, Chef Jeff's upcoming projects include his cookbook,
Chef Jeff Cooks: In the Kitchen with America's Inspirational New Culinary Star
, which will be available beginning October 7th and a movie! He shared that actor Will Smith has bought the rights to his book
Cooked
, which will be made into a motion picture.
The Chef Jeff Project premieres on October 12th, 10pm/9 central on the Food Network.
On the web:
http://www.chefjeffcooked.com/
http://www.aaronmccargo.com/