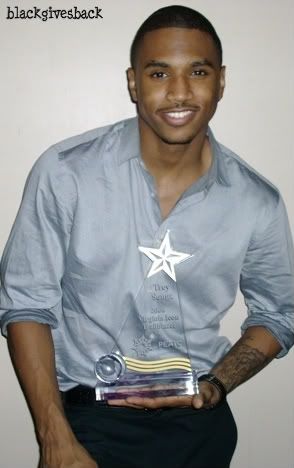 On Sunday, October 12th at the Landmark Theater in Richmond, Virginia, R&B star and Virginia native
Trey Songz
received the
Virginia Icon Trailblazer Award
at the
2008 Virginia Icon
, an annual music competition for Virginia middle and high school students benefiting the
Parent Educational Advocacy Training Center.
The Trailblazer Award recognized his musical talent and commitment to make a social difference with his
Songz for Peace
initiative, created in response to the rise in youth violence.
Songz for Peace was launched this past August in Chicago at Lindblom High School on Chicago's southside where over 500 children received information, gift bags with school supplies and a special performance from Trey and other musical artists. Trey shared with BlackGivesBack about his award, "It feels good. I was always taught to be humble and give back, and to be recognized for that, it feels good. Especially here in Virginia".
He has partnered with Noonie Ward on this initiative, a former gang member, now among Chicago's entrepreneurial and philanthropic elite. Together, they plan to bring the Songz for Peace initiative to cities across the country. He shared about the initiative, "I want to definitely spread it out to a lot of communities in need. I think the violence among our youth is rising like crazy".
The timing of the initiative's launch couldn't have come at a better time. Chicago experienced a significant rise in violence this year, particularly among public school students. Trey expressed his concern that murder victims are getting younger and by using his celebrity status, youth may take heed to his words. "If we build on it [Songz for Peace] step by step it will be very successful - we've got some good people working with us".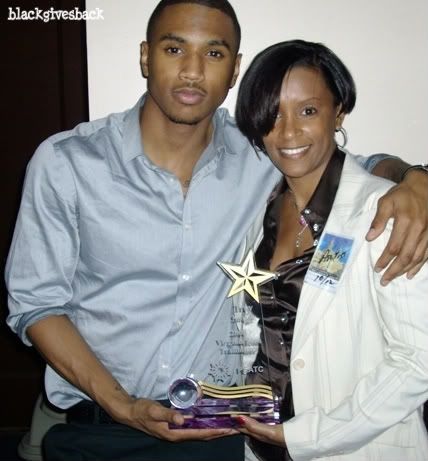 Trey's family was on hand to support him as he received his honor, which included Trey's younger brother and his mother, April Tucker, who shared that she's a fan of BlackGivesBack!
After Trey received his award, the audience was treated to an electrifying performance that included his popular songs, "The Last Time", "Wonder Woman" and "Can't Help But Wait". He congratulated all of the contestants and presented the winners with their awards.
The third place winner was 13-year old Ricky Ayala who sang Michael Jackson's "I Want You Back", the second place winner was 18- year old Jessica Michelle Fox who performed Bonnie Raitt's "I Can't Make You Love Me" and in first place was Julia Braxton, a 14-year old high school freshman who sang "Your Daddy's Son, originally performed by Broadway actress Audra McDonald. Prior to achieving Billboard success, Trey also prepared for his music career by competing in talent competitions.
On Monday, October 13th, Trey continued his goodwill at Richmond's Thomas Jefferson High School, where almost 300 youth listened to a panel that featured words of wisdom from Trey, as he spoke from the heart, showing his passion and commitment to making a difference for urban youth. He also treated the youth to a performance, signed CDs and autographs.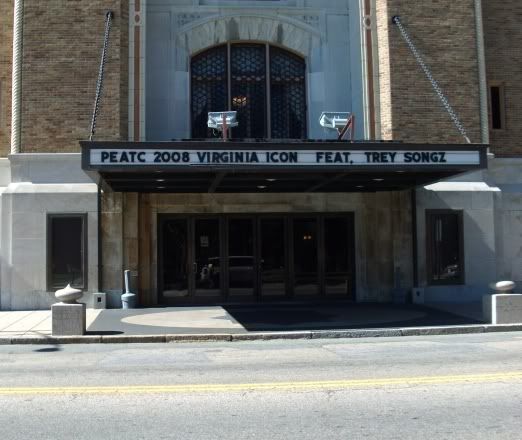 The events were a huge success, all for a great cause. Proceeds from the Virginia Icon benefited the
Parent Educational Advocacy Training Center
(PEATC), a parent education, support and training information center committed to helping families, schools and children with and without disabilities. The Virginia Icon was created to generate public awareness and helps to raise funds for delivering top-notch resources, information and training throughout the Commonwealth of Virginia. They are committed to reaching all families, including traditionally underserved, rural and low-income populations and those families that do not know how their effective involvement in their child's education can make a difference. The services are FREE! For more information, contact 703-923-0010.
Event sponsors included the US Postal Service Heritage Series, IC Linkages, LLC, and the NSWC Federal Credit Union. If your organization is thinking of planning a similar event, a DVD copy of the event is available for purchase for $15 plus $5 shipping. Contact Gloria Brogdon at
gdbrogdon@gmail.com
.
A special thanks to Virginia Icon's Executive Producer Patricia Green of IC Linkages, LLC for the invite and an amazing event!
BGB Contributor: Cecilia J.