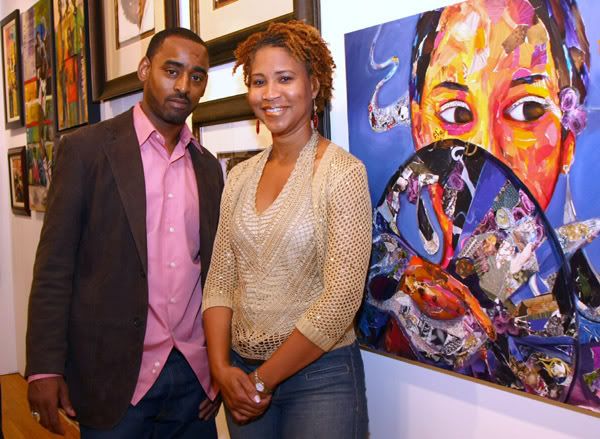 From
AroundHarlem.com
: On Thursday, October 2nd, the 4th annual
Paint It Pink
gala was held to raise awareness of breast cancer in women under 40, particularly women of color, at the Metropolitan Pavilion North in NYC. In the photo above is Gallery Director Richard Beavers and a guest in front of a painting by artist
Monique Luck
(who was previously highlighted on this blog!)
"Paint it Pink", is a gala reception with cocktails and hors d'oeuvres served amid some of the finest works of art being produced by artists of African, Caribbean and Latin American ancestry. Attendees enjoyed live entertainment and acquired art, while they mingled with art lovers, artists and curators to help raise funds for breast cancer awareness and advocacy.

Artist Nnamdi Okonkwo at the Paint It Pink gala. He was also previously profiled on BlackGivesBack. See previous post on Monique and Nnamdi here.

The event is created and produced by Art off the Main, bringing together the art community and advocates to focus attention on the issue of breast cancer and women of color and to raise vital funds for Young Survival Coalition's (YSC) Diversity Program.
In 2005, recognizing the needs of under served communities, YSC launched this program to help ensure that young women in all communities affected by breast cancer have access to the information and support they need. Young Survival Coalition is the only international, non-profit network of breast cancer survivors and supporters dedicated to the concerns and issues that are unique to young women and breast cancer.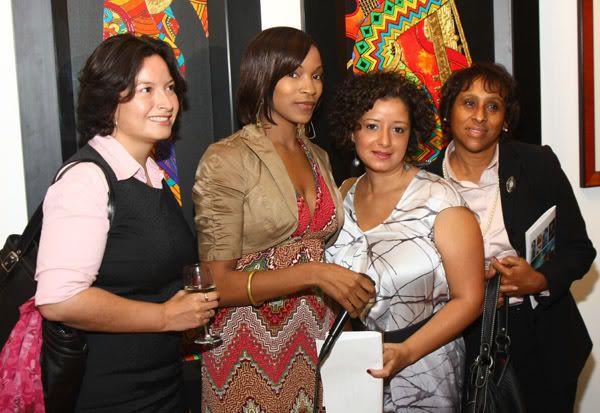 Guests from the Young Survival Coalition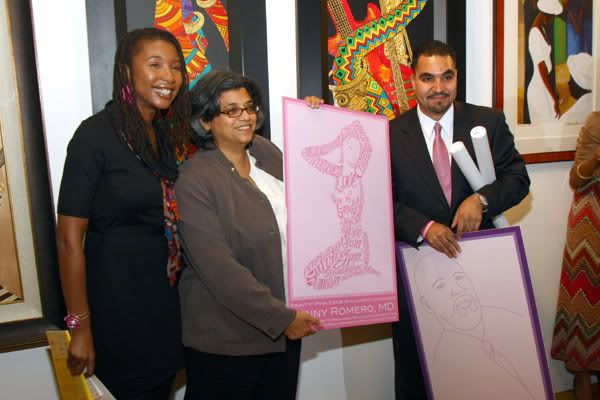 Breast cancer survivor Khadijah Carter, Dr. Jenny Romero and Oliver Rios
During the event, Jenny Romero, M.D. was honored for her efforts to bring greater understanding of the issue of cancer prognosis among populations of color. Dr. Romero is a medical oncologist at the Ralph Lauren Center for Cancer Care and Prevention in Harlem. She is also a Clinical Affiliate in the Department of Medicine at Memorial Sloan-Kettering Cancer Center and attending at St. Lukes Hospital.
Photos: Watts/Wireimage