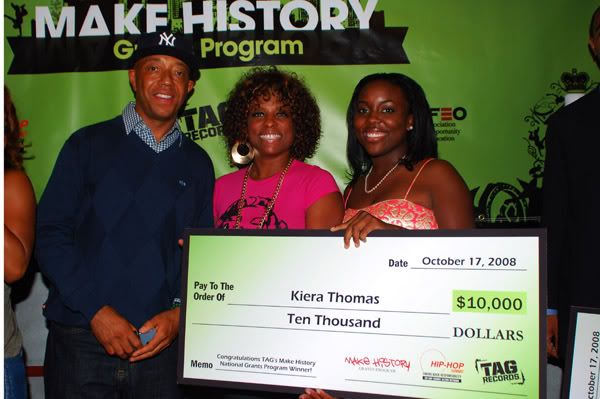 Jermaine Dupri, Russell Simmons, Ne-Yo and Other Celebrities Join TAG Records and Hip Hop Summit Action Network to Honor Five Deserving Students Nationwide for Their Community Efforts,
October 17, 2008 at Clark Atlanta University
TAG Records, the groundbreaking music label recently formed by Procter & Gamble's TAG brand and Island Def Jam, recently joined forces with the
Hip Hop Summit Action Network
(HSAN) to name five recipients of the first ever
TAG Make History National Grants Program
.
With help from the National Association for Equal Opportunity in Higher Education (NAFEO) and a panel of celebrity judges including hip-hop stars Jermaine Dupri, Russell Simmons, Ne-Yo, and Grammy-award winners MC Lyte and Chilli, TAG Records honored individuals who have made their mark bettering society.
"The TAG Records mission is dedicated to mentoring and propelling urban youth through hip hop," stated Adam Weber, brand manager for P&G. "The goal of TAG's Make History National Grants Program is to recognize the extraordinary strides being taken by select urban students, and we're very proud to partner with HSAN and NAFEO to provide them with tools to broaden their remarkable contributions."
After a nationwide search scouring more than 100 college campuses, the chosen student winners each received a $10,000 grant for their exceptional progress in a cross-section of fields ranging from science to the arts. A high-profile judging event took place October 17, 2008 at Clark Atlanta University, where top students from historically black colleges and universities were present.
In the photo above is winner Kiera Thomas (right) of Kentucky State University with Russell Simmons and hip hop artist Yoyo. Thomas is an award-winning singer and songwriter. She has received this grant for her development and funding of the Kentucky State Show Choir, a program committed to team spirit through the finest forms of contemporary vocal music and choreography.
Grammy award winner Rozanda 'Chilli' Thomas congratulates Blair Alexander Jr., of Morehouse College in Atlanta. Alexander was recognized for his groundbreaking research in microbiology pertaining to why humans have become resistant to antibiotics, and how to reverse this trend. Alexander will continue to make history as a premier researcher for antibiotics addressing diseases of African Americans and all races.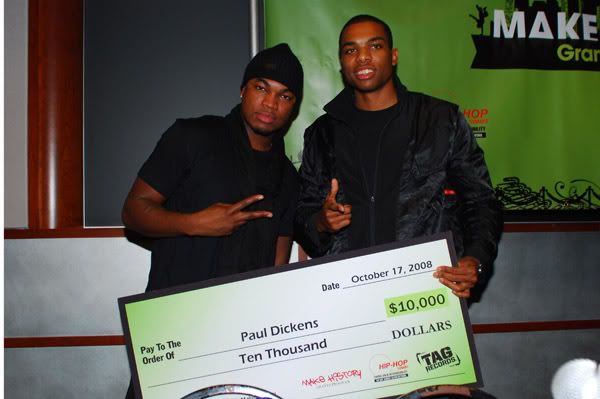 R&B star Ne-yo with Paul Dickens of Howard University in Washington, D.C. Paul is a first year medical student who has created health and environmental youth-oriented programming, using original hip-hop DVD's to encourage young people to maintain healthy lives and promoting professions related to this lifestyle.
Other winners included Chevonne James of Bowie State University in Bowie, MD for her creation and operation of the "Pick A Meal" pilot program, a program that enables the less fortunate to receive gift cards or "meal vouchers" and allows them to "pick-a-meal" at participating restaurants. This program also provides nutritional supplement bars, mini sanitary kits and bottled water to promote health and hygiene to the public; and Jamel Vanderburg of Wilberforce University in Wilberforce, OH. Jamel is the 21-year-old founder and CEO of start-up marketing and accounting firm, A & M Financial Services, Inc. This firm assists college students who want to start their own businesses to achieve their dreams, and also focuses on event planning and consulting.
These outstanding students were handpicked from applicants across the country and will use the grant funds to continue to develop their projects.
Russell Simmons declared, "Procter and Gamble and the TAG brand have created an innovative approach through this grants program to make meaningful contributions to the community. I am proud to be a part of this opportunity that inspires and lifts people up."
"TAG is a company that is ready to take a stand and make a commitment not just to music, but to improving the community through academic opportunities," said hip-hop Icon MC Lyte.
To learn more about the TAG's Make History Grants Program go to HSAN and TAG Records' Web sites:
http://www.hsan.org/
and
http://www.tagrecords.com/
.
Source: Press release
Photos: Nunez/Wireimage