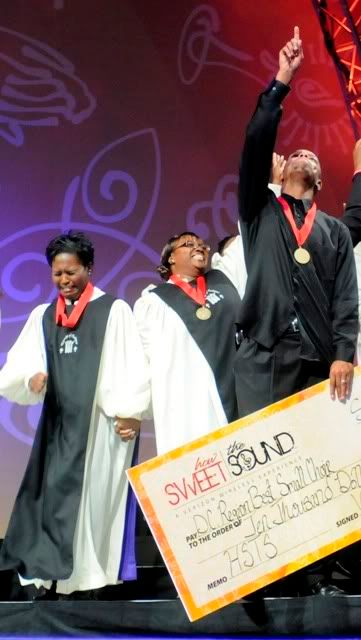 On Friday, September 26th, the Verizon Wireless'
How Sweet the Sound
gospel competition tour stopped in D.C. during Congressional Black Caucus Week. Hundreds of gospel music lovers attended, many supporting their church choirs in the competition. So who won and will move on to represent D.C. at the finals in Atlanta?
Southern Baptist Church Praise and Worship Center of Washington, D.C. were named overall best church choir - and they were also the crowd favorite, winning the VCAST People's Choice Award. In all, the choir won $15,000! They will advance to perform in the grand finale on November 8 in Atlanta to compete for a cash prize of up to $25,000 and the title of best church choir in America.
Now I'm biased because I'm from D.C., but can I say that Southern Baptist will take the grand prize in Atlanta? Yes they can! Even one of the judges, Grammy award winning gospel artist Hezekiah Walker and the audience, gave them a standing ovation! But no one was a loser in the competition. All choirs received $3,000 just for participating.
In addition to the choir performances, gospel artist Marvin Sapp performed his hit song 'Never Would Have Made It', and the host of the evening, GRAMMY®-winning songwriter, producer, arranger and music director Donald Lawrence, performed with the Howard University gospel choir.
Remaining cities on the tour are Memphis, TN (Oct. 2), Houston (Oct. 6), Oakland (Oct. 10), Los Angeles (Oct. 13) and Atlanta (Nov. 8). Prior to the start of each show, Verizon Wireless will host a number of activities, including a children's choir showcase and gospel green screen karaoke. Ticket prices are $7 for floor seats and $5 for lower and upper tier seating. Tickets are available through Ticketmaster.
For those attending, Verizon Wireless is encouraging people to bring their no-longer-used wireless phones for donation to the
Verizon Wireless HopeLine®
program. HopeLine is Verizon Wireless' exclusive phone recycling and reuse program that collects no-longer-used wireless phones, batteries and accessories in any condition from any wireless service provider to benefit victims of domestic violence. Proceeds from the HopeLine program are used to provide wireless phones and cash grants to local shelters and non-profit organizations that focus on domestic violence prevention and awareness.
Since 2001, HopeLine has collected more than 5 million phones, and has awarded more than $5 million in cash grants to domestic violence agencies and organizations throughout the country. Phones will be collected at booths set up at different locations throughout the concert venues.
Howard University Gospel Choir

For more information about Verizon Wireless and the HopeLine program, visit www.verizonwireless.com/hopeline. For more information about How Sweet The Sound, visit http://www.howsweetthesound.com/.

Photo credit: Stephen Boitano/Getty