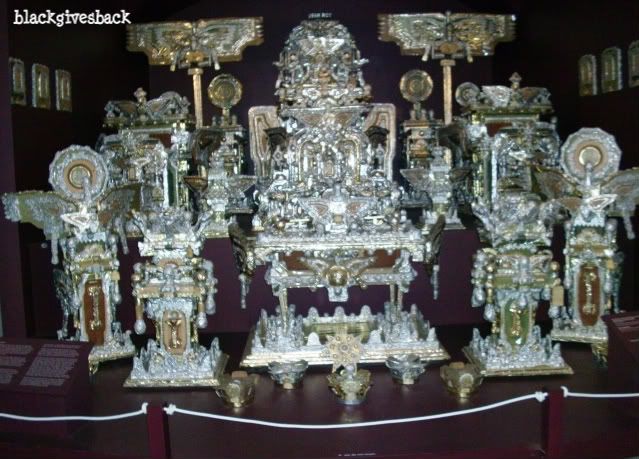 There are many African American artists whose work has been displayed at the Smithsonian Institution in Washington, D.C. Among the artists include Jacob Lawrence, Elizabeth Catlett, Romare Bearden, and,
James Hampton
.
On a recent visit to the National Portrait Gallery to visit the hip hop exhibit Recognize!, I decided to view the folk art area. As I turned the corner, a glittering of brilliant gold and silver light caught my eye.
In the photo above is a sculpture by James Hampton titled,
'The Throne of the Third Heaven of the Nations Millennium General Assembly'
. He may not be as well known as other African American artists, but in one biography, it states that very few works in the history of folk art compare to this creation.
Hampton was born in 1909 in a rural community of Elloree, S.C., to a father who was a self-proclaimed Baptist traveling preacher. In his late teens, he moved to Washington, D.C. to live with his brother. By the mid 1940's, he had served in the armed forces and was honorably discharged. Upon his return to D.C., he took a job as a night janitor with the federal government. During this time, he rented a garage near his home and began to create his elaborate sculptures.
He scourged for discarded materials to use: Old furniture, cardboard, old light bulbs, shards of mirror, wooden planks and supports, cardboard cutouts, scraps of insulation board, Kraft paper, electrical cables and old desk blotters. He then covered the pieces with aluminum and gold foil, and fastened it with tacks, glue, pins and tape.
Not many people knew that Hampton was creating art in his spare time for fourteen years. Not even his family. He was described as "a small, bespectacled, soft-spoken recluse with few friends."
The Throne sculptures were discovered by the owner of the garage after Hampton's death in 1964. In all, 180 objects and sculptures were found that had biblical scriptures inscribed on them. The garage owner sold Hampton's work to a couple, who then anonymously donated it to the Smithsonian. It is cited in literature that Hampton's work was greatly influenced by his deep religious faith. There were no plans or blueprints found for his work, Hampton shared that God told him what to do on nightly basis.
Hampton is considered an artist, although it is not known if he even considered himself one. Now, his sculpture is on exhibit at the Smithsonian's National Portrait Gallery. If you're in the D.C. area, or plan to visit, be sure to stop by and visit this magnificent piece of work. The photo I took above doesn't capture the beauty and brilliance of it. He is quoted as saying, "That's my life. I'll finish it before I die."
Source:
Smithsonian