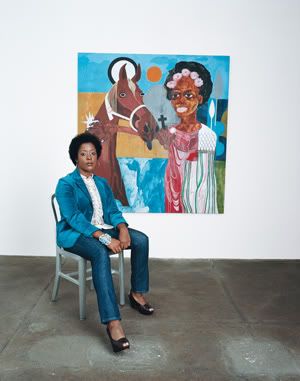 In the November arts issue of 'W' magazine, I read an article that highlighted
Nina Chanel Abney
, a 26-year old African American artist and graduate of Parsons The New School of Design. The Chicago native was the youngest in her class and had never even stepped foot in a gallery before. Her senior thesis was titled 'Class of 2007' in which she "portrayed her classmates with black skin and sporting orange jumpsuits, and herself, the only African American in the group, with white skin, wearing a prison guard uniform."
The article states that the day after she unveiled the piece, the Kravets/Wehby Gallery in Manhattan asked her to join, where they later featured her first solo show 'Dirty Wash' last spring. At the showing, her senior thesis painting caught the eye of major art collectors Donald and Mera Rubell, who flew in from New York to view her collection. They bought it on the spot, and Abney's collection sold out within days.
Abney's work is vivid. The article describes two of her other paintings - the aftermath of a murder at a casino and Condoleezza Rice posing in a bikini. Abney says about her paintings, "I definitely have a story in my head, but I like to leave that to the viewer to figure it out."
View photographs from Abney's 'Dirty Wash' collection
here
, and read the article and view a video of Abney painting
here
.
UPCOMING EXHIBITION
Abney's work will be shown in the upcoming exhibit, '30 Americans' at the Rubell Family Collection in Miami, December 3, 2008 to May 30, 2009. The exhibit will highlight the work of African American artists and will open during Art Basel Miami 2008, the most important art show in the U.S. Location: 95 NW 29th Street, Miami. Website:
http://www.30americans.com/
.

Photo: W Magazine