Millions of people are expected to descend on the Washington, D.C. area to be a part of history – the inauguration of President-elect Barack Obama. I was born and raised in Washington, D.C. and I have never seen the city so excited! It is truly a once in a lifetime event in our nation's history. There will be many inaugural events and balls – both official and unofficial – so there will be plenty to do! But first, you need to get here.
Some of you are probably lucky enough to stay with family or friends, but for those of you needing a hotel, there are still rooms available. However, many are requiring a 4-night minimum with payment upfront.
(And they're not cheap!)
BlackHistoryTours.com wants to help get you and your family here and they're offering packages at hotels in the surrounding DC area.
The Black History Tours/Open Your Eyes Foundation
is dedicated to educating America's youth about black history. Go to the website
here
for more information.
Once you're here, you'll have your pick of events to attend! BET will host the BET Honors Awards that weekend – however, getting tickets to that event I unfortunately can't help you with. But you can purchase your tickets now for
A Concert of Change!
This concert commemorates President-elect Barack Obama with famous gospel artist John P. Kee headlining, along with others such as Regina Belle, Al Sharpton, Men of Standard, Hezekiah Walker, Kim Burrell, Ami Rushes, Maranda Curtis, Angelo and Veronica on January 17, 2009 at Constitution Hall. Tickets are $35, available now at Ticketmaster (
http://www.ticketmaster.com/
)
Sights to See:
Be sure to visit the Smithsonian's National Portrait Gallery at 8th and F Streets, NW, to view James Hampton's Throne of the Third Heaven, which I highlighted
here
. Other sights include the African American Civil War Memorial museum on the historic U Street corridor, 1200 U Street, NW. Visit the website
here
for exhibit information and hours. After you're finished there, you can walk across the street to Ben's Chili Bowl at 1213 U Street to eat a world famous chili hot dog. MmmMmm!
Other Places to Eat:
A hot spot that is guaranteed to have the movers and shakers during inauguration weekend is
Georgia Brown's
, an award winning restaurant specializing in southern cuisine located at 950 15th Street, NW. My fave is the Crispy Chicken Livers. The last time I was there, I saw Jesse Jackson and Al Sharpton. Reserve early.
How to Get Around:
THE METRO IS YOUR FRIEND.
Please don't try to drive. If you're staying at a hotel in the suburbs, there is probably a metrorail stop nearby. Tip: Purchase your bus/rail passes early! If you have family and friends here, ask them to buy it for you before you arrive. I'm sure the lines will be long to purchase passes that weekend! (And trust, you don't want to be standing in line to purchase a pass.) Available in early January will be the SmarTrip commemorative card with a picture of Barack Obama. A limited number will be issued: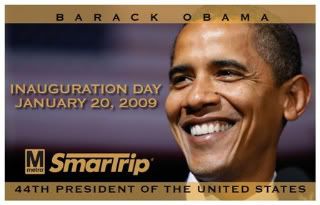 Visit the special inauguration Metro website
here
for up to date information. See you in January!