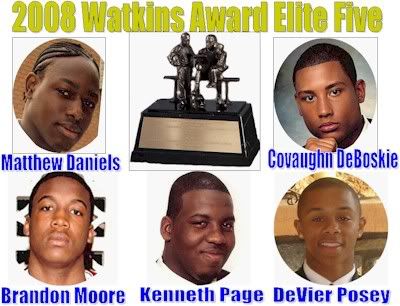 The National Alliance of African American Athletes (The Alliance) will present its 18th Annual Franklin D. Watkins Memorial Award at a Black Tie Gala February 21, 2009 at the Millennium Biltmore in Los Angeles. The Watkins Award has been the most prestigious award given to top African American male high school scholar athletes in the country since 1992.
The finalists for the award, known as the "Elite Five" will fly to Los Angeles for Watkins Award weekend activities. Watkins Award alumni attend numerous major colleges and 12 are active in the NFL during this 2008 season.
Finalists are chosen based on their unweighted grade point average, their personal statements, extra curricular activities, community service, and letters of recommendation. Each "Elite Five" winner will receive an award, a ring, and a dinner in his hometown.
The Franklin D. Watkins Memorial Trophy Award was initiated in 1992 to promote academic excellence among young African-American males and is named after Franklin D. Watkins, the coach of championship football and basketball teams in Harrisburg, Pennsylvania. The award is a means for recognizing exceptionally talented African-American male athletes who, by their example, help promote high academic standards and a commitment to community service.
Watkins Trophy Award finalists are expected to be leaders in efforts to empower and improve disadvantaged communities. It brings young men face to face with the reality that through sports, they have an opportunity and an obligation to do more for their communities.
The 'Elite Five' for 2008 are:
Matthew Daniels of Fayette County High School , Atlanta, Georgia
Covaughn DeBoskie of Hamilton High School, Chandler, Arizona
Brandon Moore of Trotwood High School, Trotwood, Ohio
Kenneth Page of Flora High School, Columbia, South Carolina
DeVier Posey of LaSalle High School, Cincinnati, Ohio
UPCOMING EVENT: PRE-GALA RECEPTION/MIXER
On December 4, 2008, Deloitte will host the Pre-Gala Reception/Mixer from 5:30 pm to 8:00 pm. The reception will be at Deloitte, 350 South Grand, 18th Floor in downtown Los Angeles, California.
The Pre-Gala Reception/Mixer will be attended by numerous local celebrities, sports industry leaders, business leaders and community activists. Watkins Award Alumni will be in attendance including Chris Lewis (former member of the Arizona Cardinals, Stanford and Long Beach Poly High School), J.R. Lemon (Actor and former Oakland Raider), and other Watkins Alumni. Athletes Advisory Chairman John Salley, Model/Actress Claudia Jordan, Comedian "Lazee" Lamont King and others, will be on hand to launch the drive toward the 2009 Watkins Award Event.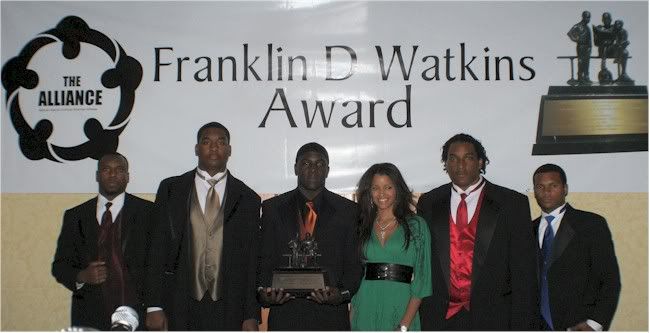 The 2007 Elite Five finalists with actress Claudia Jordan

This is the perfect opportunity to support the Watkins Award, and mix and mingle with sports and business leaders. Donations are $20.00 with RSVP and $40.00 at the door.
The National Alliance of African American Athletes was founded in 1989. The mission of The Alliance is to empower African American males through athletics, education and public programs.
Read more about the 2008 Watkins Award finalists
here
.
For more information about The Alliance, the Watkins Award, or to attend the events, visit the website at
http://www.naaaa.com/
or email
eplaybook1@mindspring.com
.