The
Urban League of Philadelphia
announces the launch of
Philly Hip-Hop Reader
, an online program to promote literacy and encourage reading among Philadelphia-area middle and high school students. Sponsored by Verizon and in partnership with the Free Library of Philadelphia, the program will promote literacy through music, specifically positive Hip Hop, based on its popularity with urban and suburban youth. Classic and modern literature, coupled with poetry and musical lyrics, have been incorporated into an interactive website.
How the program works
: Students register on the website, which provides suggested reading, event information, video clips, and featured books to get students excited about reading. As students read at least one featured book per month, they can earn prizes such as music players, movie passes and gift cards. In order to receive prizes, students must be from participating schools, but any student can participate. The program is free, and a library card is required.
The program's goals are for students to read at least one book per month (outside of their schoolwork), access the public library more often, and improve their reading level and/or literacy grade by one point. This month's featured middle school book is 'Harlem Hustle' and for high school students, 'The Seven Habits of Highly Effective Teens'.
Visit the website
here
.
ABOUT THE URBAN LEAGUE OF PHILADELPHIA: The Urban League of Philadelphia (ULP) is a non-profit, nonpartisan, civil rights and community-based movement that provides direct services, research and policy advocacy to help individuals and communities reach their fullest potential. Primarily working with African-Americans and other emerging ethnic communities, the ULP is an affiliate of the National Urban League. Visit them at
http://www.urbanleaguephila.org/
.
Source: Press release
Hip Hop Speaks to Children
Via Allhiphop.com: Award-winning poet and educator
Nikki Giovanni
has released an innovative anthology entitled
Hip Hop Speaks to Children: A Celebration of Poetry with a Beat
, aimed at introducing children to poetry, and nurturing a love of reading.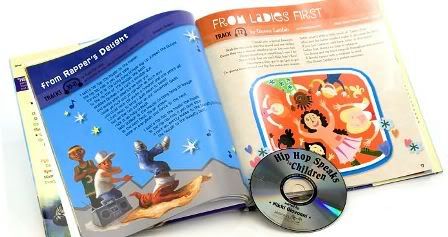 Already #3 on the New York Times bestseller list, the anthology combines pictures, words, and audio elements of poet performances to create a unique, interactive experience for young readers.
Giovanni, who has championed the African and African-American experience throughout her career, explained to AllHipHop.com that the project began as a way to take focus away from today's negative Hip-Hop elements, and illuminate the culture's sociological foundation.
"Though Hip-Hop has notorious elements these days, the art form, like poetry, began as part of the human experience, and has been used as a positive cultural force," Giovanni detailed. "Originating with the African-American community, Hip-Hop was born using creativity to improve dismal circumstances."
The collection displays 51 selections from 42 poets and performers, including A Tribe Called Quest, Queen Latifah, Stetsasonic, SugarHill Gang, Langston Hughes, and Gwendolyn Brooks.
Although only in its first month of release, the anthology has garnered considerable praise from academics and is being utilized by teachers, librarians, and parents across the country.
Hip Hop Speaks to Children: A Celebration of Poetry with a Beat is available now in hardcover at all major book outlets.
Source