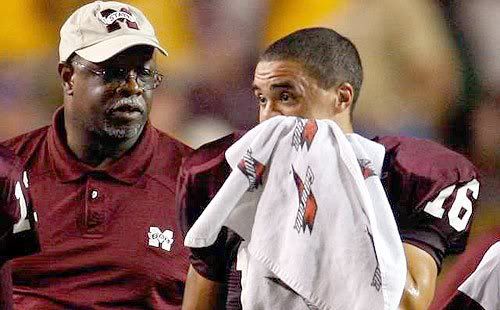 There's only four of them.
From the LA Times [emphasis mine]:
"The number of African American head coaches in
major college football
is at its lowest total in 15 years, according to a study released Thursday -- a finding the NCAA's top diversity official described as "appalling."
With the firings in recent weeks of Washington's Tyrone Willingham and Kansas State's Ron Prince, just four black head coaches remain: Mississippi State's Sylvester Croom (in photo above), Buffalo's Turner Gill, Miami's Randy Shannon and Houston's Kevin Sumlin.
It is the smallest number since 1993, when three African Americans held top coaching posts in what is now called the Football Bowl Subdivision.
"It stands in such contrast to the optimism a few days ago when America elected its first African American president," said Richard Lapchick, co-author of the study, which was released by the Institute for Diversity and Ethics in Sports at the University of Central Florida. "Not to compare the two [situations], but to slide back to such a low number at this time has to be bad news for college sports." Read the full article
here
.
Since this blog is all about giving back, how about helping our black coaches to win off the field!
Liberty Mutual is looking for the coach of the year! Vote for your favorite coach to win $50,000 for his favorite charities.
From the National Football Foundation
: "Whether building houses for the homeless or starting charities to help neighbors in need, today's college football coaches are making a meaningful impact in their communities. If your favorite coach is a community leader, you can help him win $50,000 for his favorite charities through the Liberty Mutual Coach of the Year Award. Just visit
http://www.coachoftheyear.com/
,
(**Contest has ended)
cast your vote, and encourage members of your community to do the same by clicking on "Spread the Word," located on the upper right hand corner of the website's front page. A brief e-mail form will appear, allowing you to tell family, friends and fellow alumni to cast their votes.
By spreading the word in your community, you can help decide who should win this valuable support."
I glanced at the list of coaches on the website, and all four of the coaches listed above are included, as well as the coaches from Howard University, Morgan State, and many other HBCUs. Are these coaches leaders in your community? Let's vote for them and show our support!
Photo: Chris Graythen, Getty Images/LAT