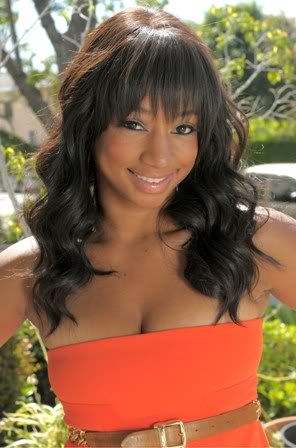 HIGH SCHOOL MUSICAL ACTRESS MONIQUE COLEMAN TO APPEAR AT LISA "LEFT EYE" LOPES FOUNDATION CELEBRITY GIFT WRAP FUNDRAISER ON DECEMBER 18, 2008
The
Lisa "Left Eye" Lopes Foundation
(LLF) welcomes High School Musical actress, Monique Coleman to their 3rd Annual Celebrity Gift Wrap Fundraiser event taking place at the Mall at Stone Crest, 2929 Turner Hill Rd., Lithonia, GA.
The Foundation along with their celebrity guests, businesses and volunteers are the exclusive gift wrappers for the Mall at Stone Crest during this holiday season. Wrapping costs range from $3.00 - $10.00, depending on the size of the customer's gift. Extended gift wrap hours are from December 13 - 23, noon to 10 p.m., and gift wrappers will be on-hand December 24th, from open to close.
"I am excited to participate in this event to support such an incredible foundation, stated Monique Coleman." She will appear at the Mall at Stonecrest on
December 18, 2008, at 7pm
. Along with the support of Monique, this fund-raiser will assist the Lisa "Left Eye" Lopes Foundation raise funds for on-going LLF programs which assist low-income youth in metro Atlanta and children housed in Lisa's Home of Love, a residential facility in Jutiapa, Honduras.
About Lisa "Left Eye" Lopes Foundation (LLF): Headquartered in Stone Mountain, Georgia, the Foundation was developed in 2003 by Lisa's mother, Wanda Lopes-Colemon, her brother Ronald Lopes and family friend Anashay Murphy. LLF was inspired by Lisa's dream of building a children's home on land she purchased in Honduras. Shortly after revealing her plans to her family, Lisa passed away in an auto accident in Honduras.
Four years later LLF opened Lisa's Home of Love, a 10,000 sq. ft., residential facility. The orphanage includes a dental clinic, FREE healthcare, and on-site FREE schooling, which is open to children throughout the community who have no school to attend. The LLF orphanage also has progressive volunteer and sponsorship programs, with future expansion goals.
On the web:
http://www.lisalopesfoundation.org/
.
Source: TLAPR