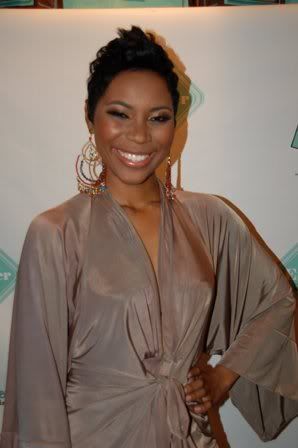 A Clothes Encounter's Launch Draws Over 300 Savvy Fashionistas for Exclusive Event Benefiting Dress for Success Atlanta and P.A.L.S. (Pets Are Loving Support)

Many of you are probably getting your last bit of Christmas shopping done among the frenzied crowds at the malls, but for over 300 of Atlanta's fashionistas, their Christmas present came early on Saturday, December 13th, as they were treated to designer and name brand fashions for up to 75% off retail.
A Clothes Encounter
(ACE), an upscale consignment party concept, celebrated their launch by hosting a fashion exchange party at 'Like the River Salon' in Atlanta. The event offered stylistas gently worn designer and name brand clothing, hand bags, shoes, and accessories at discounted rates while sipping signature Nuvo Vodka cocktails, listening to music by DJ Sugarcut, desserts by Affairs to Remember, and socializing in one of Atlanta's hottest venues, with select proceeds benefiting two area charities, Dress for Success Atlanta and P.A.L.S.
ACE was founded by actress
Kaira Akita
(in photo), a former marketing and events specialist with a love for all things fashion. She developed ACE under one basic theory - that every woman deserves to shop for great clothes with a cocktail in hand, a girlfriend on her arm, and without breaking the bank. Kaira landed her first major film role in the 2006 Sundance favorite 'Somebodies' of which she earned a "Thumbs Up" Award from film critic Roger Ebert for her portrayal of the character Diva. Kaira reprised this role in the 'Somebodies' television series for BET. The actress has also appeared in Tyler Perry's "The Family That Preys" and "Why Did I Get Married."
Kaira shared, "I was so thrilled with the turnout and support that we received. It was truly amazing to witness guests fully engaged in our concept as they shopped, socialized, and most importantly, supported our two wonderful charity partners, Dress For Success Atlanta and P.A.L.S. (Pets Are Loving Support)."
The event was a success, as fashionistas began lining up an hour before the doors opened. Merchandise included coats, jackets, blazers, stilettos, handbags, furs, dresses, and accessories, with some of Atlanta's leading ladies providing their goods, including
Rozanda 'Chilli' Thomas
,
Rashan Ali
and Lisa Wu Hartwell and Sheree Whitfield of the Bravo television show, The Real Housewives of Atlanta.
At the beginning of the four hour event, all items were discounted 40% to 75% off retail, with most items priced under $20. However, by the last half hour, items were reduced an additional 20% off, causing a frenzy for most including Kesha Henderson. "I was like a kid on Christmas…too excited," she admitted.
Shoppers were also given the opportunity to enter a raffle to win a free photo session with celebrity photographer Derek Blanks and celebrity make-up artist, Toni Acey, valued at $1,000 dollars.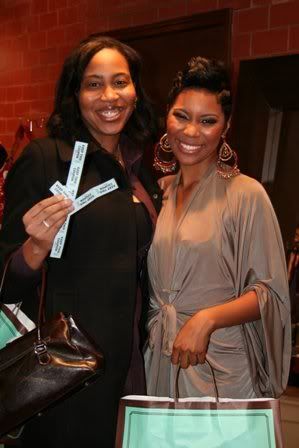 Pictured at left: Melissa Randle, winner of Derek Blanks photo shoot with Kaira; right: Fashionistas at the event
The success of ACE's first event has shopaholics eagerly awaiting the next one, which according to Kaira, will occur in the spring 2009. "I must say my favorite aspect of the evening was seeing the surprise on their faces (ACE shoppers) as they encountered our low ACE prices and high quality selection! What fun. I can't wait to begin planning for our spring event."


Victoria Hook and Shandra Jamison (both of Dress For Success Atlanta) pictured with Kaira


To learn more about A Clothes Encounter and sign up to receive notice of their next ACE Soiree, visit http://www.aclothesencounteronline.com/. To view pictures of the first ACE Soiree, visit the official photographers' website at http://www.whiteheadvelten.com/.
Dress For Success Atlanta is a not-for-profit organization that offers services to help women enter the workforce, stay employed, advance in their careers and improve their lives. Its mission is to promote the economic independence of disadvantaged women by providing professional attire, a network of support and the career development tools to help women thrive in work and in life. For more information, visit http://www.dressforsuccess.org/atlanta/.
P.A.L.S. (Pets Are Loving Support) is an Atlanta-based Non Profit 501(C) 3 organization that provides pet-care including free food and basic veterinary care, and support to the companion pets of critically ill and disabled Atlantans. P.A.L.S. helps people with critical illness or disabilities and the elderly keep their existing pets, despite medical or financial changes brought on by illness. For more information, visit http://www.palsatlanta.org/.
Happy Holidays to Everyone!!
Source: Chatterbox Publicity {Thanks Jonnice}