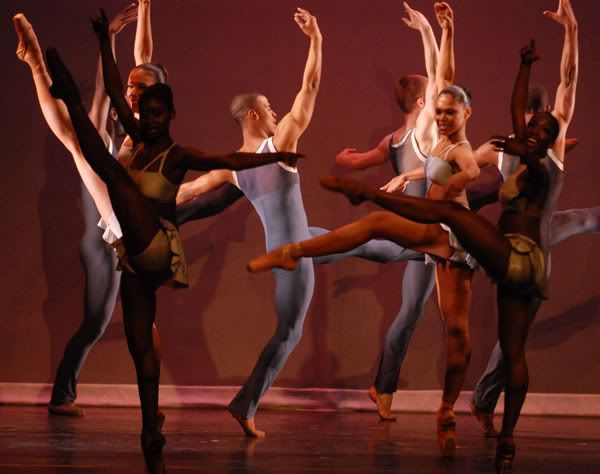 Let me begin this post by extending my apologies to the Dance Theatre of Harlem.
Earlier this year, I featured a post highlighting the 50th anniversary of the Alvin Ailey American Dance Theater. I used the above photo. As it turned out, the photo was not of Alvin Ailey dancers, but dancers from the Dance Theatre of Harlem. One of the dancers in the photo contacted me and politely let me know that I was dead wrong!
From: [name withheld]
To: blackgivesback@gmail.com
Date: Wed, Nov 26, 2008 at 11:07 PM
"…The post is about Alvin Ailey American Dance Theater's 50th anniversary, and the photo is of the Dance Theatre of Harlem Ensemble in performance at the Apollo Theater Spring Gala Tribute to James Brown in June 2007. I know this because I'm in that photo.
Please know that, while both companies represent minorities and the African-American experience in dance, there is a world of difference between them. Primarily: Ailey is a modern company, Dance Theatre of Harlem is a ballet company. Those women are wearing pointe shoes and dancing a ballet that was choreographed on the DTH company by a former DTH company member and remains in active DTH Ensemble repertoire. That has nothing, absolutely nothing, to do with Ailey.
I would greatly appreciate it if you would change the photo. Seeing as the Ailey organization is rolling in cash and has a massive marketing machine and name recognition that Dance Theatre of Harlem is still struggling to create since their full company went on hiatus in 2004, it does DTH a great disservice to have its dancers automatically associated with Ailey because of the color of their skin. Since 2004, many people have made the mistake of assuming that there is only one dance company representing minorities (Ailey), when Dance Theatre of Harlem is turning 40 years old in February and has a very rich history of advancing African-Americans in classical ballet and revolutionizing the artform with a unique and diverse repertoire. That is how you end up with a beautiful group of young dancers of all backgrounds dancing to James Brown in pointe shoes.
Just so you are aware, while DTH's professional company remains on hiatus, the Dance Theatre of Harlem Ensemble continues to perform monthly in a professional capacity and will be embarking on a national tour in January 2009. We are a group of 20 or so young dancers who are very, very proud of what we do and the organization we represent. DTH is very dear to my heart, and it hurts a little every time someone assumes I dance with Ailey. I hope you understand, and I hope that I've made you aware of something wonderful that's happening way up on 152nd Street in Harlem. Please check us out at
http://www.dancetheatreofharlem.org/
for information on upcoming shows and how you can help support the organization."
I wasn't even aware of the distinction that DTH is a ballet company and will be celebrating 40 years this February! As the dancer pointed out in the email, the company is on hiatus, but the DTH ensemble continues to perform. Below is information on two upcoming events:
DANCE THEATRE OF HARLEM PRESENTS CHRISTMAS UPTOWN, A HOLIDAY OPEN HOUSE
SUNDAY, DECEMBER 14TH AT 3PM
With special guests: Cicely Tyson Concert Choir, Ronald K. Brown, Evidence, A Dance Company and Pianist Vadim Rubinskiy.
Location: The Everett Center for the Performing Arts., 466 W. 152nd Street (between Amsterdam and St. Nicholas Avenues), NY. Tickets are $18 for adults and $14 for children (12 years old and under). Co-Founder and Artistic Director, Arthur Mitchell is the host and the program features the DTH Ensemble and Students of the Dance Theatre of Harlem School in excerpts from Tchaikovsky's "The Nutcracker"
Dance Theatre of Harlem 40th Anniversary Exhibit at the New York Public Library for the Performing Arts
February 11th, 2009 through May 19, 2009 at the Vincent Astor Gallery
40 Lincoln Center Plaza, New York, New York 10023