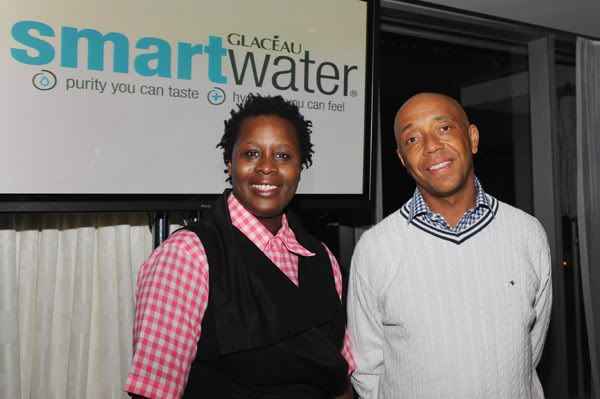 Art Basel Miami is the most important art show in America. Artists, art collectors, art dealers, critics, curators, and art enthusiasts from all over the world attend this annual event, which was held December 3 to 6 in Miami's Art Deco district. The event merges an international selection of top galleries with an exciting program of special exhibitions, parties and events featuring music, film, architecture and design. As prestigious as this event is, I decided to highlight some of the African Americans in attendance - the movers and shakers in the art world that you should know.
In the photo above is New York based artist
Mickalene Thomas
and hip hop mogul and philanthropist
Russell Simmons
. On December 4th, Russell hosted a dinner at the Mondrian in honor of Mickalene as the 2008 Rush Philanthropic Arts Foundation's featured artist for Art Basel. Russell shared with the Miami Herald, ''This event is about reminding our supporters to keep art at the forefront. I am still committed to funding art programs, even more so in these tight times.''
Pictured with Mickalene at the dinner are artists Shephard Fairey (left) and
Kehinde Wiley
(right). Wiley is a New York based painter best known for his portraits of African American men wearing urban fashion, recast as 17th to 19th century historical figures. His artwork was part of the Recognize! hip hop and graffiti exhibit at the Smithsonian earlier this year and his current exhibition, 'Down' is currently showing at the Deitch Gallery, 18 Wooster Street in NYC until December 20, 2008.
Wiley describes 'Down' as "an answer to the negative views of young Black men in American society." The press release states that this is his most ambitious series to date: "These figurative paintings, which extend up to twenty-five feet in length, have grandeur and gravity seldom seen in contemporary art."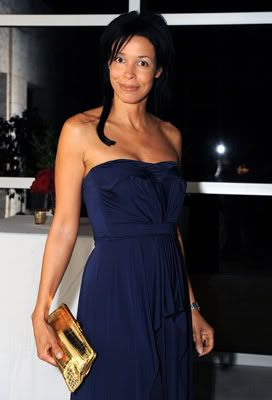 Kim Heirston Evans
and Richard Evans attend the Yves Saint Laurent and ArtForum celebration at The Bass Museum on December 5, 2008. Conde Nast has ranked Kim Heirston as one of the top six art advisers in the world. The Yale graduate counsels her clients on what art to buy, at what price, and attends auctions to acquire art on their behalf.
Thelma Golden
, (2nd from left) Director and Chief Curator of
The Studio Museum in Harlem
, poses with husband/fashion designer
Duro Olowu
(left), Tom Delavan, Editor at Large for Domino Magazine (right) and Deborah Needleman, Editor in Chief for Domino Magazine (3rd from left) at Jennifer Rubell's annual Art Basel/Miami Beach breakfast hosted by Domino Magazine on December 4, 2008.
Golden is one of the most respected art curators in America. She participated on the Art Basel Conversations panel, The Future of the Museum – Africa, America and the World.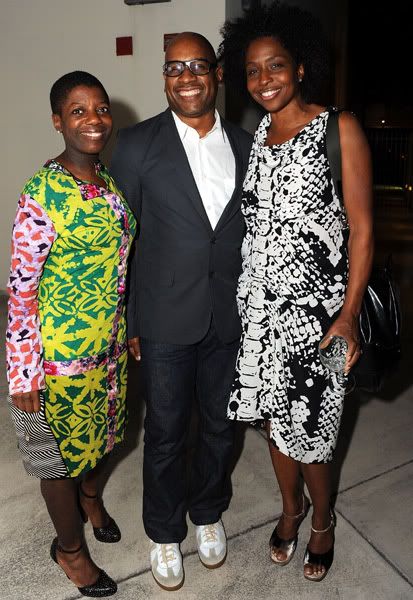 Thelma Golden is pictured with mixed media artist
Glenn Ligon
and renowned artist and photographer
Lorna Simpson
at the Yves Saint Laurent and ArtForum celebration.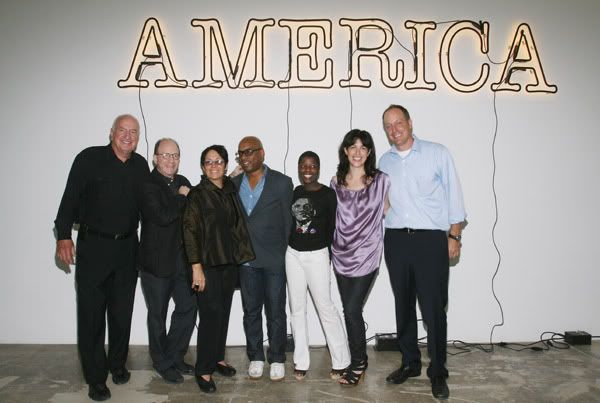 Golden and Ligon are pictured here in front of Ligon's 'America' artwork, with the Rubell Family of the Rubell Family Collection. The Rubell's current exhibition, 30 Americans, showcases the work of 30 African American artists. On their website, they share their process for acquiring this extensive art collection:
"Since we started collecting in the 1960s, we have always collected African-American artists as a part of our broader mission to collect the most interesting art of our time. Approximately three years ago, we found there was a critical mass of emerging African-American artists, and began the process of understanding what seemed to be a new movement. When we asked these artists about their influences, we heard some of the same names over and over: Robert Colescott, Renée Green, David Hammons, Barkley Hendricks, Kerry James Marshall, Gary Simmons, Lorna Simpson, Kara Walker, and Carrie Mae Weems. We had been collecting almost all of this older generation for decades. Perfect conditions for a new exhibition.
We have spent the last three years traveling everywhere we can, speaking to as many artists, critics, and curators as we can, finding and acquiring the best work we can, and putting together the best possible portrait of contemporary African-American art that our physical, financial and intellectual limitations allow. The result is a show of more than 200 works of art, exhibited in 27 galleries occupying the entire 45,000-square-foot exhibition space of the Rubell Family Collection."
Mickalene Thomas, Glenn Ligon, Kehinde Wiley and
Nina Chanel Abney's
artwork are among the artists featured in the exhibit, which runs through May 30, 2009. For more information, visit the website at:
http://www.30americans.com/
.
Also, check out artwork of President elect Barack Obama displayed during Art Basel
here
.

Photos: Wireimage