You voted.
Thousands
of you. The countdown for the Top Black Celebrity Philanthropists of 2008 begins today!
All of these finalists have given of their time, treasure, and talent to benefit communities around the world, but who earned the top spot as your favorite?
TOP PHILANTHROPIC ATHLETE FOR 2008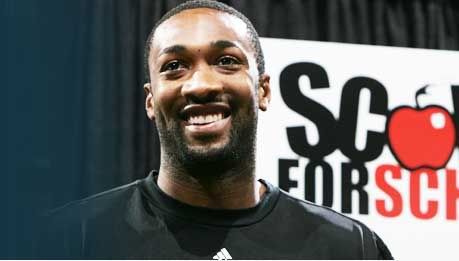 GILBERT ARENAS
Gilbert Arenas
of the NBA's Washington Wizards lands in the top spot for his charitable work with the Scores for Schools program, that benefits Washington, D.C. area schools. Each point that Gilbert scores in a home game is worth $100 for a selected school.
Gilbert shared last year, " You can see the smiles on the kids' faces. Now they get to watch the Washington Wizards to see how much I score for their school. It is amazing that this even happened…I have a chance to actually give back in this life and when my career is over, I want people to remember me for what I did off the court as well as what I did on the court."
[See related post
here
.]

LAILA ALI
Landing in the number two spot is
Laila Ali
, who is well on her way as becoming known for her charitable work just as her athletic prowess as a professional boxer. Since becoming a new mother this year, her community involvement hasn't slowed down. She has lent her efforts to a variety of causes this year, among them joining UNIFEM's Say No to Violence Against Women campaign, helping the American Diabetes Association to raise funds, and joined Subway sandwich shops to promote eating fresh and staying fit for new moms and mothers to be. Visit Laila's website
here
to learn about these efforts and more.
[See related post
here
.]

OSI UMENYIORA
This New York Giants player has hosted the annual 'Strike 4 A Cure' fundraising event for the past two years in Atlanta, in an effort to raise funds for HIV/AIDS and Alzheimer's research. See previous post
here
about Osi's trip to Nigeria to provide college scholarships for students.

CULLEN JONES
Cullen's website calls him "an ambassador for African American swimmers." In his spare time, when the gold medal Olympian is not touring the country as part of the Diversity Tour, or with the USA Swimming Foundation's Make A Splash program, he serves as a motivational speaker for youth and gives private swim lessons.
[See related post
here
.]

OVIE MUGHELLI
Ovie Mughelli of the Atlanta Falcons has been profiled on this blog for his community work as part of the Ovie Mughelli Project. Since then, he has renamed his charity the Ovie Mughelli Foundation, becoming more strategic with his charitable giving. He has recently formed a partnership with the Atlanta public school system and has a Board of Trustees that approves grant requests.
[See previous post
here
.]
Coming up.....The Top Philanthropic Duo of 2008!