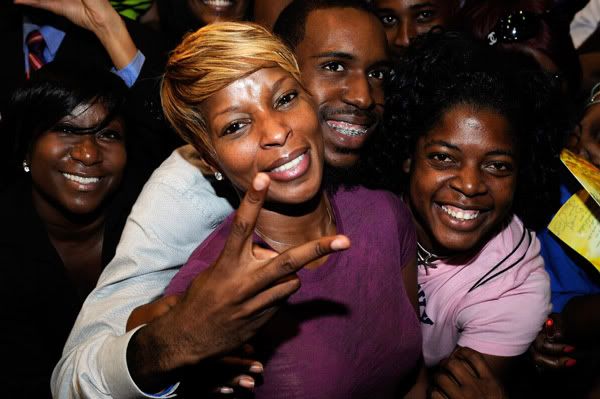 MARY J. BLIGE
Congratulations to Mary J.Blige for earning your vote as the #1 celebrity philanthropist of 2008!
And not only did you recognize the eight time Grammy award winning songstress for her notable philanthropic work this year, BET also is giving Mary an award! It was announced this week that Mary is among this year's honorees for the 2nd Annual BET Honors awards show.
In May, Mary launched FFAWN, the Mary J. Blige and Steve Stoute Foundation for the Advancement of Women Now, which is dedicated to helping all women gain the confidence and skills they need to reach their full individual potential. Upcoming projects include foundation grants and scholarships for women for vocational training and educational programs.
In addition to launching the foundation, she's also lent her efforts to voter registration drives. Here's our R&B songstress posing with fans above at a Barack Obama rally in Florida last month.
Mary has also supported other fundraisers this year, among them the Conde Nast Fashion Rocks Stand Up to Cancer event, amfAR's Cinema Against AIDS and Elton John AIDS Foundation Oscar party . Visit the foundation website
here
to learn more and join their online community.

TREY SONGZ
Trey's efforts in Chicago and Richmond with his Songz for Peace campaign earned him the #2 spot on our countdown. Trey, along with Noonie Ward, a former gang member turned community activist, plan to take the campaign to other cities. Trey also has another reason to celebrate, he just earned a Grammy nomination for Best Male R&B Vocal Performance!
A reader says about Trey: "Trey really deserves this. Giving out turkeys in his hometown on Thanksgiving. Gotta luh that man." [
Related post
]

HILL HARPER
Hill has done much charity work this year, so you'll just have to search under the 'labels' on the right side bar of this blog to view his efforts, such as hosting the Empower Me HBCU Tour.
View the website
here
for 2009 campus tour dates.

NE-YO
In addition to having his own foundation, this R&B singer/songwriter also collaborates with other organizations, such as Vh1's Save the Music Foundation. He performed at their benefit gala this past summer and recently was in Atlanta on behalf of the foundation, distributing music instruments to students at M. Agnes Jones elementary school.

COMMON
One of two hip hop artists on the list this year, Common's Common Ground Foundation seeks to empower disadvantaged youth. One way this is accomplished is through its Corner Book Club, a national online book club. Last month, Common visited an elementary school in Augusta, Georgia, speaking to students about the importance of books, and he should know as he's a children's author. Students in grades 8-12 can sign up for the book club membership and have an opportunity to win a scholarship! [
Related post
]
LUDACRIS
The Ludacris Foundation receives the 2008 BlackGivesBack Award for Best Celebrity Philanthropy Website!
Just visit the
site
and you'll see why. It has a sleek and easy to read layout, features the 'LudaTube', videos of their giving in action, and publishes a 'Word of Mouf' e-newsletter that keeps readers updated, just to name a few. Congrats to Valerie Williams and Candace Dickens of The Ludacris Foundation for a job well done!

WYCLEF JEAN AND ALICIA KEYS (TIE)
Both Wyclef and Alicia use their voices - not their singing voices - to raise awareness of important issues in other parts of the world. Wyclef is a champion for Haiti, bringing awareness to the poverty and famine in his native country; and Alicia for the HIV/AIDS crisis in Africa.

JURNEE SMOLLETT
Jurnee's activities this year included not just creating a $2 million dollar scholarship fund for students at Wiley College, (view
here
) but supporting other foundations and initiatives as well. She serves on the board of Artists for A New South Africa, and was recently in D.C. for the 35th anniversary of the Children's Defense Fund (CDF), where she served as an honorary event host. This month, Jurnee (on right) presented a young lady with the Beating the Odds award by the CDF :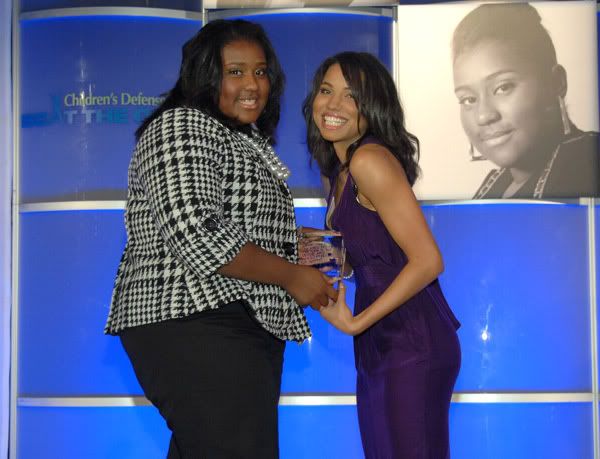 USHER
As many families are experiencing the economic hardship this holiday season, Usher reached in his pocket to help those in need. He donated $20,000 to Atlanta's V-103 'Christmas Wish List' charitable program, benefiting 10 families, and partnered with the Atlanta Bow-Tie Society, providing gifts for hundreds of Atlanta teens. [
Related post
]

MYA
Mya rounds out the top ten list for her foundation's work with youth in the D.C. area. This past summer, The Mya Arts and Technology Foundation hosted a camp that provided much needed arts programming to youth in an underserved area in our nation's capital. [
Related post
]
Thank you to everyone who voted! Be sure to check out the growing 'Celebrity Philanthropy' list on the right side bar. And, I have more celebrity foundations to add! Also, a big thank you to all of the celebrities who give of their time to better our communities! Until next year…