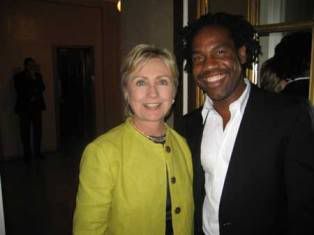 Unik Ernest
knows how to throw a party. His event planning skills have taken him to St. Tropez, where he threw a lavish party for socialite Denise Rich on a boat, in London for Lionel Richie, and at events such as Sundance and Art Basel Miami, where the likes of David Bowie and Naomi Campbell partied last week.
In the early 1990s, the Haitian born entrepreneur was introduced to the South Beach Miami party scene, and four years later, he moved to New York where his nightlife empire took off. As the owner of the NY hotspot Merkato 55 and Bijoux, I'm sure his schedule is jam packed, but he has not forgotten his native country.
In 2007, Unik founded
Edeyo
, an organization dedicated to improving the future of children in Haiti by rebuilding dilapidated schools, supplying students with learning materials, and providing them with nutritional support. Haiti is the poorest country in the western hemisphere, where its estimated that only 50% of youth there attend school. He shared last year,
"I'm very excited about the launch of Edeyo. For me, it's a natural match, because I have heartfelt conviction to give back to my country. My success reflects my desire to overcome poverty, and I want to extend that same opportunity to those less fortunate than me."

Want to read more about Unik's story and his rise to become a nightlife impresario? He's profiled in the current issue of BlackBook magazine, where he also shares about two upcoming events. A fundraiser for his foundation on December 9th and an inauguration party in D.C.:
"As we all know, this is the most historic event in America in many, many years. An African-American guy in the White House is incredible. I'm putting a committee together with will.I.am, John Legend, Spike Lee, Usher—many people will be involved in the event, and it's going to be very VIP. It's going to be two nights, the night before Martin Luther King Day and then on Inauguration Day, a closing party to celebrate the inauguration of our new president."
Wow. I'm sure that's going to be some event!
Read article
here
.
Visit the Edeyo Foundation:
http://www.edeyo.org/
Article assistance:
Hip Hop Press
Photo: Blackbookmag.com