NFLer
Daniel Wilcox
of the Baltimore Ravens hosts 'Giving In Style', a fashion show fundraiser, Tuesday, December 16th, 6:30-10PM: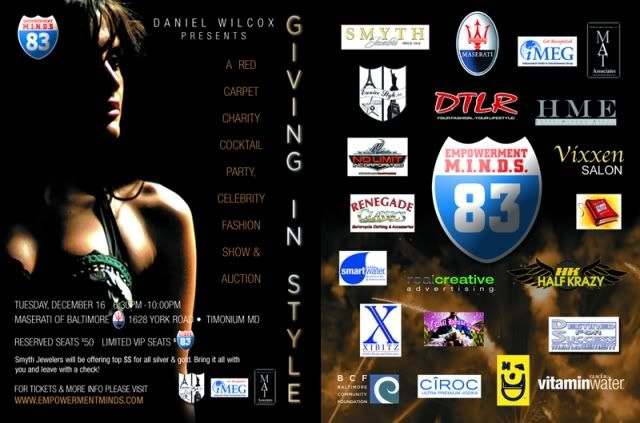 Daniel along with his wife Shauna, have launched Empowerment M.I.N.D.S. -"Motivating and Inspiring Neighborhoods Determined to Succeed." This red carpet charity cocktail party, celebrity fashion show and auction, will benefit Empowerment M.I.N.D.S. to provide Baltimore area youth and youth sponsored by the Have a Heart Campaign with reading materials, technological products and cultural opportunities.
Eunice Style Fashion Consulting, IMAT, and IMEG Productions are coordinating the fashion show featuring celebrity models including Ravens' players Ed Reed, Chris McCalister, Bart Scott and many others. Musical entertainment will be provided by Carmen, Paula Campbell, Chop Shop Cartel and various talented acts. Also in attendance will be various dignitaries such as star violinists, Nuttin' But Strings, Peter Angelos and Steve Bisciotti.
When: Tuesday, December 16th, 2008, 6:30 PM- 10:00 PM
Where: Maserati of Baltimore Dealership, 1628 York Road, Timonium, MD 21093
To purchase tickets:
http://www.empowermentminds.com/
Source: D4SM, Inc
.
Retired NFL player Keion Carpenter and The Carpenter House Foundation, Inc.,Present The Carpenter House 2nd Annual Holiday Give Back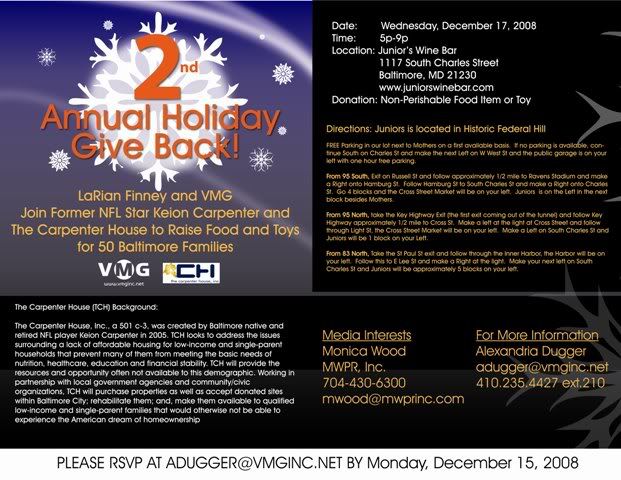 Since leaving the NFL in 2007, former Atlanta Falcons' safety
Keion Carpenter
has embarked upon a bold philanthropic mission by reaching out to communities of color through his foundation,
The Carpenter House, Inc.
as well as collaborating with other charities. The 31-year-old Baltimore native has been speaking to youth up and down the East Coast about the importance of getting a good education, maintaining a healthy lifestyle, developing good character traits, and pursuing their dreams.
The Carpenter House Foundation's main objective is creating affordable housing for Baltimore families with limited income and family challenges; making the dream of homeownership a reality. Through his foundation, Carpenter will also offer educational workshops, financial mentoring/management services and holistic family programs in the effort to positively change the dismal statistics that disproportionately plague low-income families and at-risk communities.
Source: MWPR