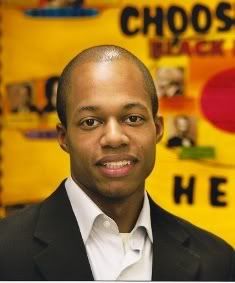 When Darius Graham was a student at Florida A&M University, he volunteered at a local Boys and Girls Club, helping youth with their homework and encouraging them to read. But there was a problem. The books and bookshelves were badly damaged, and the children didn't have their own books to read. He stated, "It just seemed so ridiculous to me that there were children that wanted to read but didn't have any books to read."
One day by chance, he met the coordinator of a statewide literacy initiative and told her about the problem. As a result of their conversation, they formed a partnership and Darius received new books to distribute. Books All Around, Inc., was born.
The purpose of Books All Around is to give children access to new books. The organization recruits student organizations and community groups to implement literacy service projects (book giveaways, creating reading corners in community centers, etc.) to ultimately create communities where children have easy access to new books at no cost to their families.
Today, Darius is a law student at the University of California Berkeley, where he is the editor-in-chief of the Berkeley Journal of African-American Law and Policy. He is also an author. In 2008, Darius published the book,
Being The Difference: True Stories of Ordinary People Doing Extraordinary Things to Change the World
. The book reveals the stories of thirteen individuals that have gone beyond making a difference and, instead, have become the difference.
Each profile conveys the message that anyone can make a difference by using his or her own experiences and passion to help others. He shared with me about the book, "Not that all good deeds must always be recognized, but I just believe that if stories like these were told more and if people like these were celebrated more, many more individuals would recognize that they too can make a difference in their community."
From reading Darius's own story above, he could have easily profiled himself. He has much to be proud of, including being named by USA Today in 2006 as one of the top 20 college students in the country and winning the Indie Excellence award for his book.
Darius sent me a copy of his book to read and I must say, this is a must read for anyone who is thinking of starting or already has an organization. In today's times, many non profits are experiencing the effects of the economic downturn and its easy to get frustrated. These profiles tell stories of how they overcame these obstacles and others, to ultimately fulfill their dream. So if you're struggling with your organization, this book will reignite your passion and give you renewed inspiration.
It's also a great book for teachers to use as an activity in the classroom. Just last week, Darius received an email from students in Miami, sharing that they read the book and it empowered them to become engaged citizens and more active in their community.
As Darius is an avid reader of BlackGivesBack, he would like to giveaway three copies of his book to you, the readers! Just send an email to
blackgivesback@gmail.com
with
'Book Giveaway'
in the subject line by Saturday, January 24, 2009. (Only one entry per email address). Three winners will be selected to receive one book.
Visit Darius Graham on the web at
http://www.beingthedifference.com/
and be sure to check out his blog!
Thanks Darius!