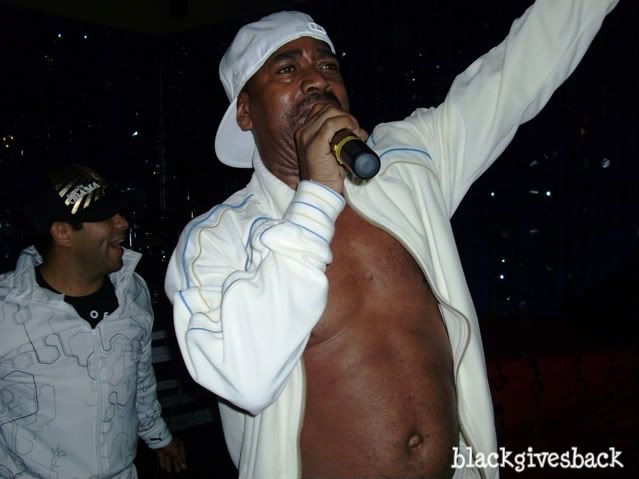 Yes yes y'all - the Inauguration festivities for President-elect Barack Obama has officially begun! Last night, the People's Inaugural Premier was held at the Historical Society in downtown DC with live performances from hip hop legends Kurtis Blow (pictured above), Lin Que, formerly known as Isis from the rap group X-Clan, and Doug E. Fresh. Kurtis Blow put on an amazing show, joining us in the crowd and breakdancing! I love old school hip hop so this was a perfect way to start the weekend!
If you're on your way to D.C. or are already here, check out these free activities!
MANIFEST HOPE: DC GALLERY
I'm sure you recognize this portrait of our next President Barack Obama, that was created by artist Shepard Fairey. His work will be on display along with many other artists, who have used their voices to motivate the grassroots movement that carried Barack Obama to victory.
The Manifest Hope: DC Gallery will be open to the public from January 17 - 19, 10am-6pm at 3333 M Street, NW. For more information, visit the website
here
.
Sunday, January 18: Souls of My Sisters Books Presents a Panel Discussion on 'What the Obama Presidency Means to Me'
Kensington Publishing Corp.'s imprint
Souls of My Sisters Books'
co-founders Dawn Marie Daniels and Candace Sandy will host a dialogue on "What the Obama Presidency Means to Me." The town hall-style event is being held in cooperation with Congressman Gregory W. Meeks (NY-06) in honor of the inauguration of President Barack Obama. It will take place on Sunday, January 18 (2:00PM-5:00PM) at the Cannon House Office Building, Caucus Room.
The program will include the perspectives of prominent women from around the country, including notable television personality Star Jones, Mikki Taylor (Essence Magazine), Amy Keith (People Magazine), Maria Davis, (HIV/AIDS Activist), Jacque Reid (Tom Joyner Show) and Jackie Rhinehart (author). "The dialogue will focus on the historic relevance of the incoming Obama Administration, the personal stories and the issues facing American women, and our global connection with women worldwide," states co-editor Candace Sandy.