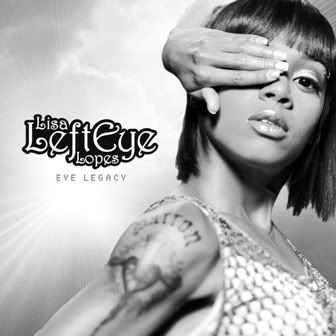 In 2003, the family and friends of Lisa 'Left Eye' Lopes established the
Lisa 'Left Eye' Lopes Foundation
in her memory. Before her unexpected passing in Honduras in 2002, she shared with her family and friends her vision for opening up a youth center in the country she called her second home.
Today, her dream has come true with the opening of
Lisa's Home of Love
, a residential orphanage facility that includes a dental clinic, free healthcare and on-site schooling, which is open to children all throughout the community.
Another goal of Lisa's was to record a solo album. As one third of the pop group TLC, they sold over 45 million records. Today marks the day that another vision of Lisa's has come true. 'Eye Legacy', her first U.S. solo album, is being released to much anticipation. A percentage of proceeds from album sales will benefit the Foundation and their orphanage in Honduras.
The album includes guest artists Missy Elliot, T-Boz, Chilli, Lil' Mama, Bobby Valentino, Chamillionaire, and many more. It was co-produced by Lisa's family: Wanda Lopes (Left Eye's mother), and Ronald Lopes and Reigndrop Lopes (Left Eye's siblings).
I recently spoke with Ronald Lopes, the Executive Director of the Lisa 'Left Eye' Lopes Foundation, about the new album, Lisa's legacy of giving and upcoming projects of the Foundation:
Lisa's first album was released abroad, but this is the first album that is being released in the U.S. How long was this latest album in the making?
The first album, Supernova, was released online August 16, 2001 and it followed up with a release overseas the following year. The album did pretty well. A lot of fans maybe didn't know about the album. I think it peaked at #5 on the UK charts. For this album, it took about one year.
Do you have a favorite song on the album?
I have a couple of favorites. 'Let's Just Do It' is one of my favorites, 'Block Party' (featuring Lil' Mama) is one of my favorites and 'Neva Will Eye Ever' is one of my favorites – those are my three top songs. 'Neva Will Eye Ever' features my sister Reigndrop along with our sister Lisa. Another song I really like if I can give an honorable mention is 'Let It Out', a song with Wayna Morris [of Boys II Men]. That song is based on a true story, a very touching song.
Can you share about Lisa's legacy of giving?
Lisa was always volunteering her time in the community doing charitable events. A lot of the people that felt it [her giving] were the people around her. Lisa was the type of person where the kids in her neighborhood would be at her house playing Play Station and just spending time with her. She affected her community in that way as well, but she also would go to schools, she would talk to children, she would encourage them, trying to be a positive role model.
Then when she went to Honduras, she bought 50 acres of land because she wanted to build not just a children's home, but she wanted to build a whole youth activity center. She drew a picture of it – it looked like a castle. She had designed what their backpacks would look like – she was very detailed with everything that she wanted to do.
Unfortunately she passed away before everything could become reality, but we did what we could to bring her dream to fruition. While we didn't do the details like the backpacks – we did build a 10,000 square foot facility that houses 20 children today, all orphans. Most have been orphaned by their parents passing away from HIV/AIDS or some other terminal disease.
Ronald and Reindrop Lopes at an event in June 2008, to present Janet Jackson with the Lisa Lopes Foundation Community Service Award in Atlanta.
What activities does the Foundation support here in the U.S.?
We also do work here in Atlanta with kids who are in the custody of Family and Community Services. We do all types of activities, all of our activities are based on building the self esteem of a child, making them more self sufficient, that's so they can survive successfully in life. We have a program to teach them about finances, how to keep your credit good, especially with the economy the way it is now. They definitely need to learn that.
What are the foundation's upcoming events and projects for 2009?
We always have two major fundraisers every year – one in the summer with HOT 107.9 (in Atlanta) and then we do one that just passed at Christmas at the Mall at Stonecrest, the
celebrity gift wrap
where celebrities come out and wrap gifts for the people. The money raised from that goes to the foundation to support our programs.
We also have a new program we're working on called the Edutainment Movement, a combination of education and entertainment where we're taking some of the hottest songs from R&B and hip hop and we're changing the words to teach the kids about what they should be learning in school – maybe a song teaching you about multiplication, English or literature. We're going to feature this program at our upcoming album release party – we'll have kids performing. It's a pretty cool program, I'm really excited about it.
**********************************************
The 'Eye Legacy' album release party is being held tonight at the Ten Pin Alley in Atlanta. Hosted by the Foundation and Ryan Cameron of Atlanta's V-103FM, the invite only affair will feature celebrities, industry executives and tastemakers. Reigndrop Lopes will perform the single 'Neva Will Eye Ever' from the album, along with a performance from Collizion of MTV's America's Best Dance Crew and a silent auction.
The album includes a bonus DVD of never before seen footage of Left Eye. The album booklet will also contain fan messages that were collected through the 'Eye Legacy' official Myspace page. You can purchase it now at all speciality retailers.
On the web:
http://www.lefteyelegacy.com/
and
http://www.lisalopesfoundation.org/
Thanks to Ronald Lopes and Tafia of TLAPR