Actress
Terri J. Vaughn
grew up in one of San Francisco's toughest neighborhoods. She knows firsthand the challenges that youth face in gang and drug infested communities.
Terri shared about the violence among today's youth, "Why were we doing these things to ourselves and to each other? These questions stayed with me throughout my teenage years, through college and even followed me to Hollywood. I knew my sister and I were blessed to have a supportive mother, a dedicated grandmother, and aunts who nurtured us to do well in school and in life. I also knew I wanted to do something to help guide girls growing up in my neighborhood to make better choices."
Terri's acting resume includes Tyler Perry's Daddy's Little Girls, and the UPN show 'All of Us', but she is best known for her role as Lovita on the long running series 'The Steve Harvey Show'.
"After years of struggling and trying to find my way in Hollywood, I was blessed with the role of Lovita on "The Steve Harvey Show" and that is when I knew what I wanted to do. In 1997, with the help of one of my best childhood friends, we put the word out that I wanted to invite 40 girls, between the ages of 13-18 years old, from my old neighborhood out for a holiday dinner. I'll never forget it. We laughed, we shared and we cried together. It was a powerful night. Since then we have had that dinner every year with 60 to 80 girls in attendance. From that, with the help of my family and friends,
Take Wings Foundation
was formed."
The Take Wings Foundation's mission is to build the self esteem of at-risk girls ages 13-18 living in the greater San Francisco Bay area by providing scholarships, community service and life skills development.
Terri (3rd from right) at a Take Wings Foundation gala event with actress Tichina Arnold (3rd from left), actress Essence Atkins (4th from left) and R&B singer Tank (2nd from right).
I first learned of Terri's foundation last year when I attended Tavis Smiley's
Salute to Youth Leadership Gala
in Los Angeles. Terri was honored with the Youth Advocate Award for her work with the foundation, along with fellow actors Hill Harper and Cedric "The Entertainer."
Annual events of the foundation include the Angel Awards Gala, and a three day workshop for the girls that addresses a variety of issues, including dating violence, HIV/AIDS, teen pregnancy, peer pressure, weight and body image, social responsibility, academic success, career development, successful emancipation from foster care, and spirituality.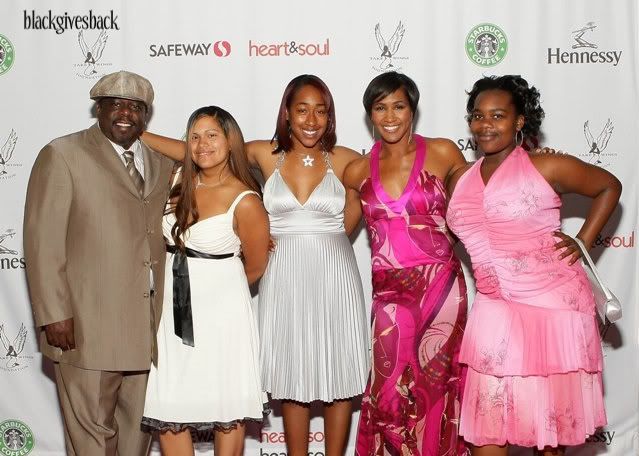 Cedric "The Entertainer" (left) with Take Wings girls and Terri at a previous awards gala
In addition to being a mother, actress and philanthropist, Terri has her own production company, Nina Holiday Entertainment. From that company she has produced her first film, "Angels Can't Help But Laugh," a documentary that features 25 of Hollywood's African-American actresses to discuss how they deal with being in today's entertainment industry. While media floods unrealistic ideas to the general public about these women, this documentary allows viewers a candid, unscripted exposure into the minds and hearts of these actresses.
On the web:
http://www.takewings.org/
On the web:
http://www.angelscanthelpbutlaugh.com/
Source and photos: TR Public Relations