Marketing executive Aaron Walton, President and CEO of the NAACP Benjamin Jealous and Jacquie Lee attend CIROC Vodka, Official Spirit Sponsor Of The 2009 NAACP Image Awards - After Party at the Beverly Hilton on February 12, 2009 in Beverly Hills, California
The
NAACP
kicked off its 100 year anniversary and year long centennial celebration last evening with the 40th annual NAACP Image Awards. The annual award show is the nation's premiere event celebrating the outstanding achievements and performances of people of color in the arts, motion picture, television, recording, and literature, as well as those individuals or groups who promote social justice through their creative endeavors.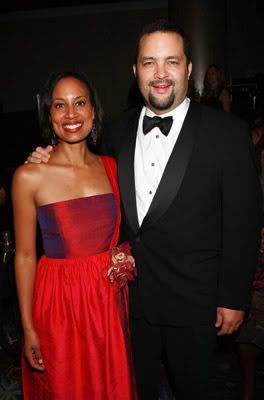 Professor Lia Epperson and her husband Benjamin Jealous; singer/actress Beyonce (winner, Best Female Artist) with Ming Lee and Aoki Simmons, daughters of NAACP Image Award honoree Russell Simmons
Actress Taraji P. Henson, NAACP Image Award winner of Best Supporting actress in a motion picture for "The Curious Case of Benjamin Button"; Judge Craig S. Strong, actresses Sanaa Lathan and Wendy Raquel Robinson


NAACP Image Award winners Jennifer Hudson (Best New Artist, Best Album) and Sean 'Diddy'Combs (Best Actor in a television movie, miniseries or dramatic special for "A Raisin in the Sun")


Gospel artists Mary Mary (Winners for best gospel artist) and actress Jada Pinkett Smith (center)

On February 11th, the Image Awards pre-show gala was held at the Creative Artists Agency in Los Angeles:

One of my favorite television court judges, Judge Greg Mathis (on right) with NAACP Image Award Nominee and TV producer Oliver Hatchett, Jr., for the Judge Mathis show.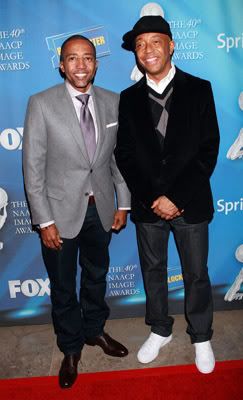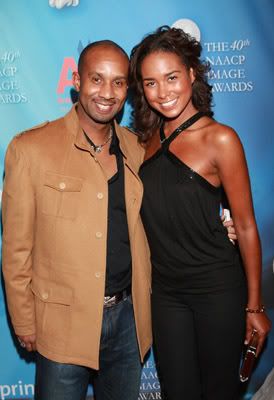 Kevin Liles and Russell Simmons; Alex Avant and
Katie Rost
Julian Bond, NAACP National Board of Directors Chairman with Benjamin Jealous

Julian Bond shares, "The NAACP has successfully fought discrimination for 100 years and we are proud of our achievements to date. Our founders could not have dreamed that our centennial would coincide with the inauguration of the first African American president. We know we played a role in this triumph; sadly, we know our work is not done."

Jealous shared about the work the NAACP is embarking on: "Our journey remains unfinished. African Americans suffer disproportionately from the economic recession, we are seeing a rise in hate crimes and police killings, there is still not a level playing field in economic and educational opportunities for every community. The audacious dream of America, a land where opportunity exists for all and where every person is given a chance to reach their full potential, still remains elusive." [Source]

Visit the NAACP website at http://www.naacp.org/ for a listing of upcoming events and activities celebrating their 100th anniversary.

Photos: Wireimage