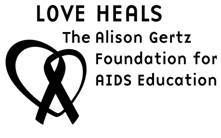 On Saturday, February 7th, events will be held across the country in observance of National Black HIV/AIDS Awareness Day. Now in its seventh year, the theme for this year is 'A Black Life Is Worth Saving'.
The National Black AIDS Institute states that of all the racial and ethnic groups in the United States, HIV and AIDS have affected black Americans the most. In our nation's capital, recent data shows that 1 in 20 people in Washington, D.C. are infected – the same as the overall rate in sub-Saharan Africa. Another city that is impacted by this epidemic is New York City. Data shows that HIV is spreading in NYC at three times the national rate and HIV infection among NYC teens has risen to its highest level since 2001.
An organization in New York City is aiming to change that.
LoveHeals, the Alison Gertz Foundation for AIDS Education
, empowers young people in the fight against HIV. Alison Gertz (1966-1992) was a prominent AIDS activist who died from the disease in 1992. She was infected from a single sexual encounter and is quoted as saying, "If I can get AIDS, then anyone can."
The organization creates and distributes educational materials, shares its expertise, and advocates for young people's right to HIV/AIDS education. They do this in partnership with hundreds of schools and community groups throughout the NYC metropolitan area, reaching both young people and the individuals who impact their lives, while placing special emphasis on outreach to high-risk communities. Over the past 15 years, the organization has reached over 315,000 young people.
New York City has long been the epicenter of the HIV/AIDS epidemic in the U.S., with African-Americans and other people of color disproportionately affected," said Jasmine Nielsen, who has seen the face of HIV change over the decade she has served as Executive Director of Love Heals. Nielsen continues, "That is why this year's theme, 'Black Life is Worth Saving' is so important. Love Heals remains committed to empowering young people in the fight against HIV and addressing the racial and economic disparities among those impacted by the epidemic."
On and around February 7th, the Love Heals Speakers Bureau will deliver HIV/AIDS prevention and awareness workshops in schools and community groups throughout NYC. The city's longest-running HIV/AIDS speakers bureau is made up of a diverse corps of HIV positive speakers and expert health educators who reach more than 50,000 young people annually. Using a unique team approach, the Bureau provides the facts on HIV/AIDS and the personal perspective of someone living with the disease.
"Our HIV-positive speakers use their personal stories to de-stigmatize the disease and to empower their audiences to make safer choices regarding their own health," said Christopher Murphy, Love Heals' Training Manager. "In many cases, it is the first time that a young person has had the opportunity to openly engage in conversation about HIV's impact on their own family, friends or community."
To schedule a Love Heals Speakers Bureau presentation or to get more information about Love Heals, call (212) 529-7935 or visit
www.loveheals.org
.
Source: Press Release