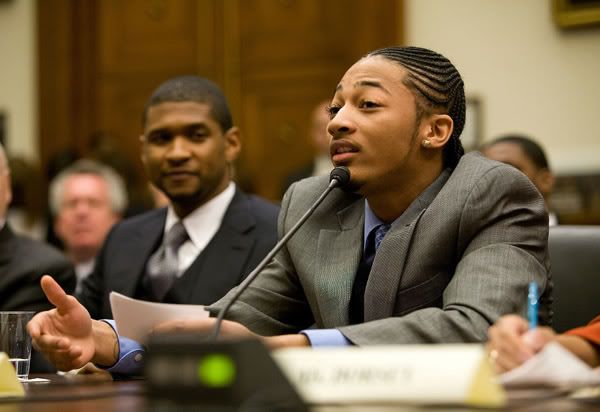 "I call us Generation S for Service because we are a generation ready to serve. Together we are ready to change the world."
Recording artist
Usher
spoke those words at a hearing on improving America's commitment to service and volunteerism at the House Education and Labor Committee hearing room on February 25, 2009 in Washington, D.C.
With Usher is 19-year-old James Harris, an aspiring rapper who participated in Usher's New Look Foundation's camp in 2007. He credits the foundation for encouraging him to attend college, where he is majoring in business administration and entrepreneurship at Johnson County Community College in Kansas.
Harris shared during the hearing, "At camp, they taught us that there is more to business than being an entertainer and in order to be a strong artist, you need to know the business side of the industry. A rapper with an accounting degree can manage his own books and has a second career to fall back on. We call it being a double threat."
Harris also encouraged the committee to target youth at an early age by requiring junior high and high schools to incorporate service into their curriculums.
"You may have just written a part of the No Child Left Behind law," chuckled committee member Rob Andres Andrews, D-N.J., who said the committee is working to rewrite the five-year-old education reform law, which is up for renewal.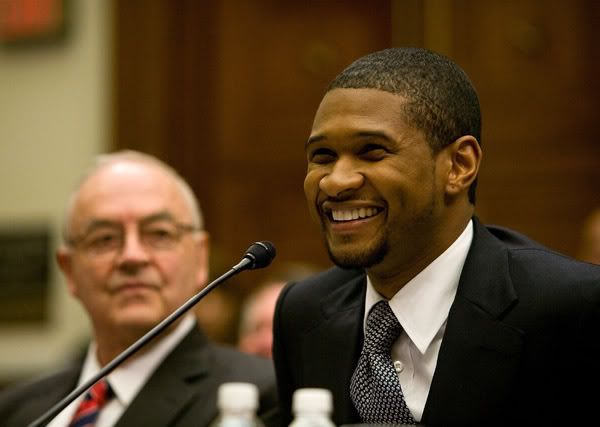 Read more and view Harris' testimony
here
at Usher's New Look Foundation website.
Photos: Morigi/Wireimage