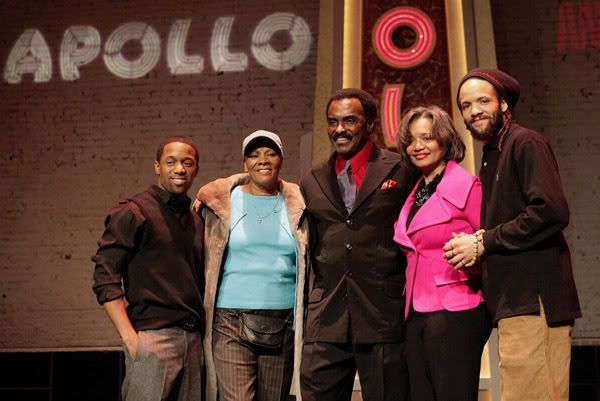 Singer Change, Music legend Dionne Warwick, Apollo legend Chuck Jackson, President and CEO of Apollo Theater Foundation Jonelle Procope and dancer/actor Savion Glover at the Apollo Theater's 75th anniversary season kick-off and press conference on January 27, 2009 in New York City.
In celebration of the Apollo Theater's 75th anniversary, free events are being held for the entire family! Courtesy of Chase Bank, the theater will be open to the public on Saturday, February 28th and Sunday, March 1st. Upcoming events:
In celebration of African American History Month, New York City Mayor's Office of Film, Theatre and Broadcasting, in conjunction with the Apollo Theater Foundation and Screen Actors Guild, will present
"Careers in Entertainment: African American Perspectives"
at the world famous Apollo Theater. The panel will be made up of prominent members of the African American entertainment community, including those currently featured on "Made in NY" television shows, as they discuss the successes they have enjoyed in the past, where they are presently in their careers, and what they think is in store for their future and the future of African-Americans in film, television and theatre.
The panel is on February 26 at 6pm. It is free and open to the public. Seating is limited and available on a first come, first served basis. RSVP to
rsvp@film.nyc.gov
by Tuesday, February 24th. An RSVP does not guarantee a seat. Doors open at 5:30pm.
Expected panelists are NANCY GILES – Contributor (CBS News Sunday Morning) and Actress (Joshua, "Law & Order"), AMANI MARTIN – Director of Production (HBO Sports) and Director/Producer ("Real Sports with Bryant Gumbel"), DARYL MITCHELL – Actor ("Ed," Galaxy Quest) and EAMONN WALKER – Actor ("Kings," "Oz"). Panelists are subject to availability.
Friday, March 13 at 6:30 PM - Carnegie Hall Neighborhood Concert: Community Sing with Gospel for Teens
The Gospel for Teens Choir will join host Vy Higginsen at the Apollo Theater's Soundstage for a free Community Sing Neighborhood Concert where audience members are invited to come together and sing along with the choir. Higginsen, the writer/producer/director of the musical Mama, I Want to Sing, founded the Mama Foundation for the Arts and its Gospel for Teens Program, which teaches aspiring teenagers about the importance of gospel music as an art form.
Free. Reservation required. 212-531-5363
Saturday, March 14 at 10 AM - Amateur Night Open Auditions
The audition is open to singers, dancers, comedians and musicians of all ages and musical styles. For this audition set, they especially encourage non-singing/rapping acts such as dancers, musicians, magicians, comedians, roller-skaters, animal trainers, etc. Each contestant will have up to 90 seconds to audition. Singers can bring a track or sing a cappella. We will NOT have a band in house. Musicians should bring their own instruments. Dancers should bring a cassette or CD for their performance. All auditions should be in good taste. (212) 531-5370 for more information.
Free. Children under 18 must be accompanied by an adult. Only the first 200 acts will be seen.
All shows listed are at The Apollo Theater, 253 W. 125th Street, New York, NY 10027. Please visit
http://www.apollotheater.org/
for additional information.
The 75th Anniversary Season is made possible by The Edward and Leslye Phillips Family Foundation.
Photo: Wireimage
Source: Walker International Communication Group