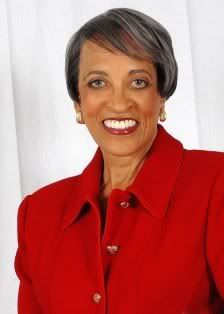 Last year, a reader sent me information about the Johnnetta B. Cole Global Diversity and Inclusion Institute, an organization founded by
Johnnetta Cole
, who is the president emerita of both Bennett and Spelman Colleges - the only two HBCUs serving women in the country. Now, Cole has a new position, as the Director of the Smithsonian's National Museum of African Art in Washington, D.C. Snippets via Artdaily.org:
"Johnnetta Cole has been named director of the
Smithsonian's National Museum of African Art
, effective March 2. Cole is the board chair of the
Johnnetta B. Cole Global Diversity and Inclusion Institute
, founded at Bennett College for Women in Greensboro, N.C. The mission of the nonprofit institute is to create, communicate and continuously support the case for diversity and inclusion in the workplace through education, training, research and publications.
"It will be a privilege and a joy to work with the board, the staff and all stakeholders of the Smithsonian's National Museum of African Art," said Cole. "Serving as the director of this museum will bring together my passion for African Art, respect for an anthropological knowledge of the people and cultures of the African continent and my involvement in the world of education."
Cole was president of Spelman College in Atlanta (1987-1997) where her appointment generated a $20 million gift from Bill and Camille Cosby. In addition, she completed a $113 million capital campaign. Under her leadership, Spelman College was named the number-one ranked liberal arts college in the South." Read full article
here
.
Source and photo: Artdaily.org