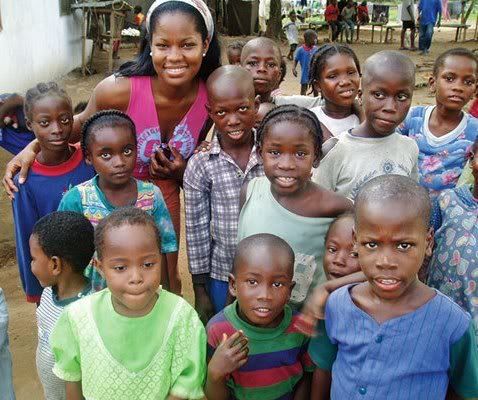 Last year,
MacDella Cooper
, a New York based humanitarian, was profiled in the magazine Reader's Digest. She shared her story of escaping her native country of Liberia, which is located on the west coast of Africa: "Then in late 1989, when I was 12, we heard rumors of war. Charles Taylor and his rebels destroyed every village in their path. The rebels saw our big house and captured my stepfather. We sat there waiting for him, but he never came back. My mother was on vacation in the States with my three little brothers at the time. For months, I was on my own with my older brothers, who were 15 and 16, hoping our stepfather would return. The rebels took our cars and raided our house. One said he would come back and take me as his wife. That's when we decided to leave."
She shared that when she arrived to America, she obtained a degree and modeled some, but she had forgotten where she came from. As a result, MacDella, also known as "Liberia's Angel," founded the
MacDella Cooper Foundation
(MCF) in 2004, an international non profit organization devoted to empowering Liberian youth, especially orphans and abandoned children, by affording them an education and providing basic necessities.
The Foundation has a major goal for 2010 – to build the MCF Academy. There is no public education system in Liberia, only private, which many cannot afford. The Academy will offer free tuition, along with room and board for 200 abandoned children. It will be designed by acclaimed architect Winka Dubbeldam, principal of the world-renowned firm Archi-Tectonics, NYC.
On February 20, 2009, the Foundation will host a Fashion Week Afterparty on the final evening of New York's Mercedes Benz Fashion Week. Alongside top fashion, design and media luminaries, MCF will reveals plans for the MCF Academy in Liberia. The evening's events include: Cocktail Reception, Fashion Show, Dinner, Auction and Dancing.
The event aims to raise $500,000 to break ground on the Academy. MacDella shares, "Having escaped the brutality of a decade-long civil war in Liberia myself, I know firsthand that Liberia desperately needs a new generation of empowered, educated individuals to continue its recovery."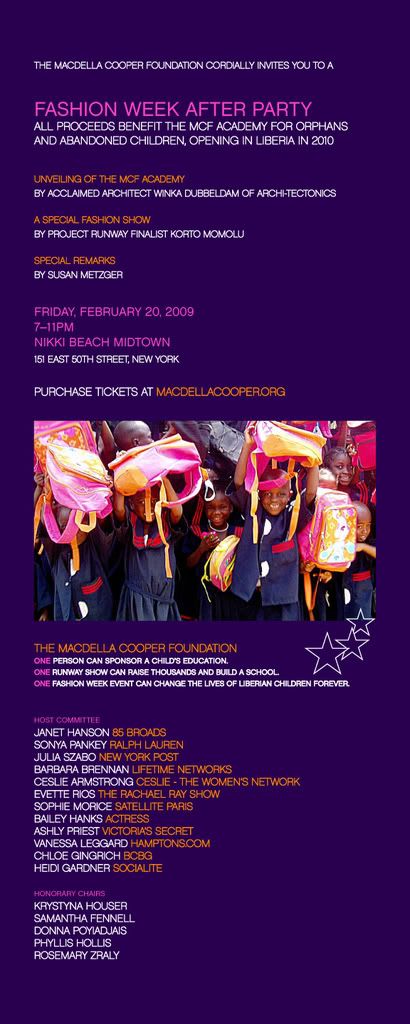 The red carpet kickoff to the event will begin at 6pm followed by a VIP cocktail hour. General admission will commence at 7 pm, with the program concluding by 10pm followed by a night of dancing and music, courtesy of New York's own 'DJ Dusko' Justic. Please visit
http://www.macdellacooper.org/
to purchase tickets, and view the evening's schedule and complete list of special guests.
Photo and article assistance: ReadersDigest.com