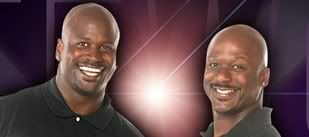 Via press release: "Nationally syndicated sports radio hosts
The 2 Live Stews
are challenging urban broadcasting personalities to join them in getting their listeners, particularly African American men, to support their favorite charity,
Big Brothers Big Sisters
. Doug and Ryan Stewart, who are biological brothers, have been Big Brothers for several years with Big Brothers Big Sisters of Metropolitan Atlanta.
While more than a third of the Little Brothers served by the Big Brothers Big Sisters volunteer network are African American, only 15 percent of the nonprofit organization's male mentors are black. And in many of Big Brothers Big Sisters' nearly 400 agencies, African American boys disproportionately represent the children waiting for a mentor.
Doug and Ryan Stewart are the lead voices of a new radio campaign called
Mentoring Brothers
. The campaign is phase II of Big Brothers Big Sisters of America's Campaign for Men, an effort launched last year and funded in part by a generous grant from the Arby's Foundation to recruit more male mentors, especially African American and Hispanic men.
The Campaign for Men includes public service announcements, "Bigs Asking Bigs" events, barbershop recruitment drives spearheaded by the historically African American Alpha Phi Alpha fraternity, and the development of the targeted website,
mentoringbrothers.org
. Arby's(R), Big Brothers Big Sisters' largest corporate partner, has been working with Big Brothers Big Sisters and its local agencies for more than twenty years.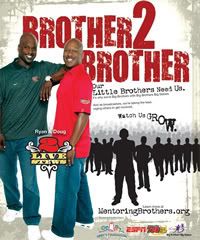 Doug is Big Brother to 12-year-old Gavin and Ryan's Little Brother is 17-year-old Javoris. The 2 Live Stews program debuted on Atlanta's Sports Radio 790 the Zone in 2001. The show is syndicated and heard in two dozen markets around the country. Doug and Ryan also appear on ESPN2's First Take and were named Air Talent of the Year by ESPN in 2005. The Stews also host TV One's Black Men Revealed.
During the Mentoring Brothers radio campaign, the Stews will talk about Big Brothers Big Sisters, run radio and web public service announcements and urge their listeners to get involved by signing up at
mentoringbrothers.org
. The Stews will also appear in ads in ESPN the Magazine and encourage other high profile African American personalities to join them as ambassadors, encouraging their listeners to become Big Brothers or support the effort. The campaign will run through the end of February.
"We hope to get more brothers to step up; if you can't be a mentor, you can support a match by contributing any amount of money. Big Brothers Big Sisters changes perspectives and changes lives for the children, mentors and so many others who support this powerful volunteer network," said Doug Stewart."
Visit the site at
http://www.mentoringbrothers.org/
Top image illustration via GarnerCirclePR
Source: PRN press release