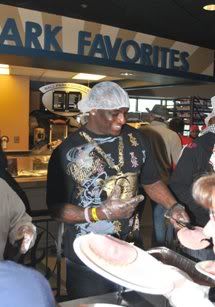 In 2006, former Minnesota Vikings player Kenneth Clark's NFL career ended after three major surgeries. Despite that hurdle, he is eager to make an impact in the Atlanta community and beyond.
Last year, Clark was one of 14 retired players to participate in a prostate cancer screening to promote prostate cancer research and awareness initiatives by the American Urological Association, that was funded by the National Football League Player Care Foundation.
The American Urological Association recommends annual screening for men starting at age 50. African-American men and those with a family history of the disease are at a greater risk and should begin screening earlier.
"Prostate cancer is the most common cancer affecting men in the United States," Clark said in a statement. "I am pleased that the NFL Player Care Foundation has made awareness for this disease a priority and that I can participate in this initiative, I dream of one day having my own foundation and being able to help promote this important cause also."
Clark also partnered with
Hosea Feed the Hungry & Homeless,
(in photo) during the National Day of Service on January 20th in Atlanta, by serving warm meals to the homeless. Joining Clark were Bravo TV's Project Runway Mychael Knight, St. Louis Rams Linebacker Chris Draft, and many other volunteers from Hosea Feed the Hungry and Homeless at Turner Field in Atlanta.
For Clark, being able to participate in Monday's dinner was his chance to give back, which is something he thinks every NFL player should do.
As for the Hosea Feed the Hungry MLK dinner, Clark will not forget the many volunteers who rolled up their sleeves and gave up their day to better the lives of many underprivileged families. More importantly he will never forget the thousands of faces that came to receive a hot meal on such a cold day.
{Source: Jarvis Haugabook/The Mathis Firm}