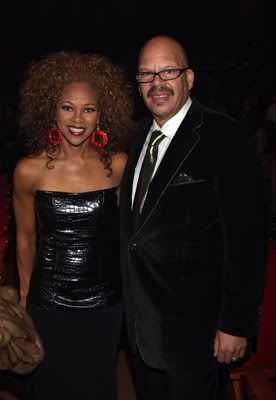 Via Amberbooks.com: Quality Press, a division of Amber Communications Group, Inc. (ACGI), the nation's largest African American book publisher of self-help books and music biographies, has recently signed an agreement with the
Tom Joyner Foundation
to produce and manufacture the organization's upcoming title:
Tom Joyner Presents How To Prepare For College.
Joyner is photographed with his wife Donna Richardson Joyner at the Trumpet Awards in Atlanta last month.
The book will be available to individuals, high schools, libraries, non-profits, organizations, businesses and your local community bookstore, beginning February 16, 2009, in honor of Black History Month. Order through
http://www.amberbooks.com/
and
http://www.ipgbook.com./
Written by Thomas LaVeist and Wil LaVeist, the book has a foreword by Tom Joyner that states, "What I like about this book is that it shows you the steps you need to take to get into college and it applies to everyone. Everything from raising a college-bound student to life after college is covered. Whether you're a child in elementary school or an adult in the workforce, considering enrolling in a college or university, this book has something you can use."
Tom Joyner is a nationally syndicated radio and television personality, philanthropist and entrepreneur whose morning show is heard in more than 115 markets by nearly eight million listeners each week. Known as the "hardest working man in radio," Joyner is a 1999 Radio Hall of Fame inductee, an NAACP President's Award winner and was bestowed with the prestigious Marconi Award for Network/ Syndicated Personality of the Year. His website
www.BlackAmericaWeb.com
has more than 1.5 million registered users and features news with special reports by award winning journalists and exclusive political coverage as well as interactive elements with on demand audio.
Tom Joyner founded the Tom Joyner Foundation to provide financial assistance to students at Historically Black Colleges and Universities (HBCUs). Since 1998, the Tom Joyner Foundation has raised more than 55 million dollars to help students attending HBCUs stay in school. The Foundation also hosts an annual cruise named the Fantastic Voyage which raises money for the foundation.
For further information, sales and bulk sales of the book, contact: Amber Communications Group, Inc. at
amberbk@aol.com
, visit
http://www.amberbooks.com/
or call 1-866-566-3144.