Robert Redford, Rachel Robinson, Dr. Ben Carson and Robin Roberts attend the 2009 Jackie Robinson Foundation awards dinner at the Waldorf Astoria on March 16, 2009 in New York City.
On Monday, March 16th, the Jackie Robinson Foundation held its annual awards dinner in New York. The Foundation is named after baseball pioneer and civil rights legend Jackie Robinson, who would have turned 90 years old this year. The Foundation awards 4-year scholarships for higher education.
Hosted by Bill Cosby, the event honored three individuals who embody the humanitarian ideals of Jackie Robinson:
Robin Roberts
, Good Morning America co-host, recognized for her own pioneering career in broadcasting and her unwavering commitment to advancing social change through her reporting;
Dr. Benjamin Carson
, world renowned physician, educator and Director of Pediatric Neurosurgery at John Hopkins University who has served as a mentor and role model for scores of African American youth across the country who dream of becoming physicians; and
Robert Redford
, founder of the Sundance Film Festival and one of the most iconic actors of our time. This entrepreneur and trailblazer in the world of cinema has spent his career opening doors for many giving voice to young filmmakers.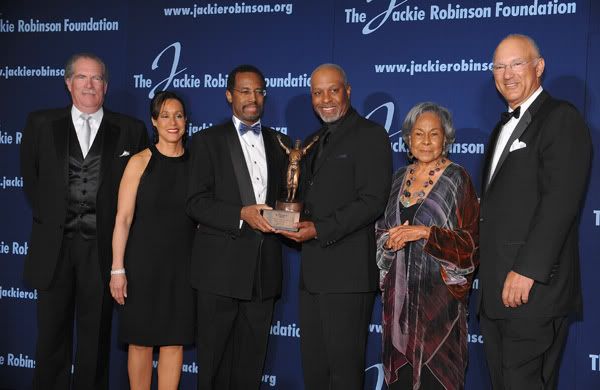 John McGlade, Della Britton Baeza, Dr. Ben Carson, James Pickens Jr., Rachel Robinson and Leonard Coleman Jr.
Prior to the star studded gala, Robinson scholars gathered for the 2009 Annual Networking weekend in New York. Sponsored by New Era Caps, the 4-day event brought together scholarship recipients, alumnae and staff of the Jackie Robinson Foundation. Rachel Robinson, the widow of Jackie Robinson shared, "We believe that students need more than tuition and funds. They need a lot of support, other kinds of support. They need the help to develop their leadership potential. They need all kinds of nurturing and mentoring, and we provide that for them."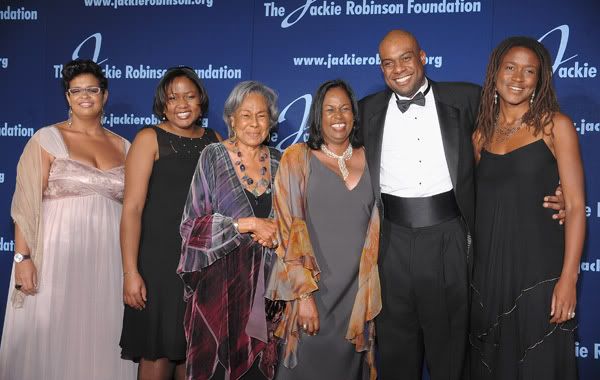 Rachel Robinson and Family
Also during the networking weekend, four scholarship recipients received awards for their impact with community service and social enterprise activities. The Spike Lee Youth Motivation Award of $5,000 went to Ebenezer Asare, a student at Harvard. He created Step UP, a program that matches Harvard students as tutors and mentors for students in underperforming Boston Public Schools. Read article and view a video
here
.
The deadline for 2009 scholarship applications is March 31st. For more information, visit the website at
http://www.jackierobinson.org/
.