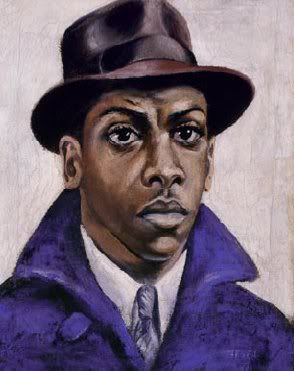 In December of last year,
Forbes.com
published the article 'Black Market,' about the growing popularity of African American art. BET founder Bob Johnson is profiled in the article, with his acquisition of the Barnett-Aden collection in 1998.
The Collection consists of more than 250 pieces of artwork by 19th and 20th century African American and African artists. Johnson doesn't remember how much he paid for the collection, but the article states that a dealer familiar with the sale estimates he spent $400,000, and that it's probably tripled or quadrupled in value within the last ten years.
I feature African and African American art collections on my blog because it unveils what life was like in black America at any given point in time. When slaves couldn't read or write, they expressed themselves through art. It has been documented in research that many slaves arrived to America as skilled artisans. Collections such as the
Kinsey Collection
document the African American experience through rare books, sculptures and letters, and the
Quilts of Gee's Bend
has been called one of the most miraculous works of modern art that America has produced.
Johnson's Barnett-Aden Collection is considered to be one of the oldest collections of African American art. He shares, "Many of the paintings represent pride and dignity. I identify personally with several pieces from the Collection and think it is important that the works from talents of our early American history are preserved and enjoyed as much today as they were many years ago."
Johnson debuted his collection at the Hemphill Fine Arts gallery on January 31st in Washington, D.C. This year marks the first time art from the Barnett-Aden Collection will be on display in the city since 1975 when the Collection was dispersed following the death of its original founders. The exhibition, "Selections from the Barnett-Aden Collection: A Homecoming Celebration" will be on display until March 7.
The art gallery states, " The Barnett-Aden Collection is important because of its artistic range and how it reflects both the early social and cultural conditions of the African American experience. The Barnett-Aden Collection celebrates the diverse aspects of African American history and is a tribute to African American art and culture."
About the Founders: "A rich history embodies the Barnett-Aden Collection. In 1943, James Herring, a Howard University professor of art and founder of its Department of Art, and Alonzo Aden, his student and curator of the University's Gallery of Art, founded a private gallery in their Northwest Washington, DC home. These men collected art at a time when most African American artists could not exhibit in mainstream museums and galleries and when up and coming white artists lacked local patronage and encouragement.
The Barnett-Aden Gallery became an oasis of beauty and culture in a segregated America and provided a haven for artists like Romare Bearden, Elizabeth Catlett, Jacob Lawrence, Archibald Motley, and John Robinson to advance art through their interpretations of the American experience."
This is the last week! Visit the exhibition at
Hemphill Fine Arts
, 1515 14th Street, NW, Washington, D.C. Gallery hours: Tuesday - Saturday, 10 AM to 5 PM and by appointment.
Photo credit: John N. Robinson (1912-1994), Myself, oil on canvas/Hemphill Fine Arts
Source: Hemphill Fine Arts press release