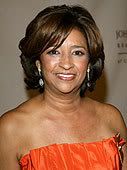 The Brain Trust
is a group of six women who have raised $10.9 million dollars for brain tumor research. And they're all African American.
I thought this would be a great post for Women's History Month, because they are making history. One member of The Brain Trust is
Pauletta Washington
(2nd photo, on left), singer, actor, musician, philanthropist and wife of Academy award winner Denzel Washington. She shares that she and the other members enjoy having a front-row seat when it comes to witnessing medical history in the making.
Another member is
Keisha Nash-Whitaker
(2nd photo, on right), wife of Academy award winner Forest Whitaker. Both of their husbands have become contributors and outspoken supporters. Also a member is
Dale Cochran
(first photo), the widow of Johnnie L. Cochran, Jr.
The trust was formed in 1998 to support the work of neurosurgeon Keith Black, M.D., chairman of Cedars-Sinai's Department of Neurosurgery and director of the Johnnie L. Cochran, Jr. Brain Tumor Center, and the Maxine Dunitz Neurosurgical Institute.
Snippets via Newswise.com: The women of the Brain Trust represent a variety of professions, from business and the entertainment industry to medicine and law. Washington said that while their schedules are tight, they are able to accomplish a lot in a short period of time.
"It's a unique group. We can get more done in 15 minutes than you would imagine because we know each other so well and everyone is self-sufficient. It's an efficient effort and everybody works together beautifully," she said. "We have a diverse group of women with just unbelievable resources. It is so much fun to be involved in bringing everyone together to put on a function that raises funds and awareness."
Among their fund-raising ventures, the Brain Trust has organized a fair for children and families on a Warner Bros. Studios lot, arranged book signings, and presented concerts. When the Johnnie L. Cochran Jr. Brain Tumor Center opened at Cedars-Sinai in 2007 – a project that received $5 million in funds raised by the Brain Trust – the group produced a gala celebration attended by contributors and numerous notable personalities, including music producer Rickey Minor, Grammy Award-winning singer Nancy Wilson and talk-show host Larry King.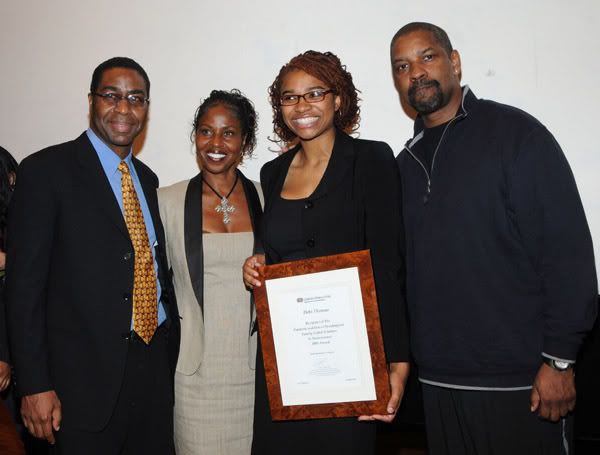 The Denzel and Pauletta Washington Family Gifted Scholars in Neuroscience Award: Dr. Keith Black, Pauletta Washington, neuroscience scholarship recipient Debi Thomas and Denzel Washington, May 2008
"Part of our job is creating awareness, and one of the most exciting aspects of our work is getting information 'hot off the press' and filtering it into the community in seminars, luncheons and other events," she said. "We may have some tougher fund-raising days ahead of us because of the economic situation, but we're hopeful. Dr. Black is doing phenomenal work and he and his teams are incredible. When we see them working tirelessly, it makes our job easier. It keeps us optimistic and encouraged."
The members are:
Carol Bennett, M.D.
– Chief of Urology at the Greater Los Angeles Veterans' Hospital Healthcare System, sits on many boards, actively involved in schools, mother of two, wife of Keith Black, M.D. Bennett has earned a distinguished reputation through her work with the VA, as a surgeon and as a professor of urology at the University of California, Los Angeles.
Dale Cochran
– Entrepreneur and philanthropist, community activist, world traveler, widow of world-renowned attorney and civil rights leader Johnnie L. Cochran, Jr. She works to keep her late husband's legacy alive in the community with youth programs designed to encourage young people to stay in school and lead active, healthy lives. She led the effort to bring to reality The Johnnie L. Cochran, Jr. Brain Tumor Center at Cedars-Sinai Medical Center.
Gloria Mitchell
– Owner of a medical center in south central Los Angeles, philanthropist, community supporter, political activist, mother of five, grandmother of four. She and her husband, Dr. Accie Mitchell, continue to be involved in the community, working to bring hope and renewal to children and their families in the impoverished and underserved areas of Los Angeles. Her keen business sense has kept projects on target and on budget.
Angelia Sanders
– Vice president of the Recording Academy (The Grammys), mother of two young children, sits on several boards, active in children's schools. She has climbed the ladder in the record industry, having worked at Motown, BMG, and RCA record labels, and has helped to build the careers of Grammy Award winners Stevie Wonder, Lionel Richie and Will Smith, to name a few. Her contacts in the world of entertainment have enriched the work of the Brain Trust immeasurably.
Pauletta Washington
– Singer, actor, classically trained pianist, philanthropist, and mother of four children, actively involved in children's schools, wife of Academy Award-winning actor Denzel Washington. The couple lends their names and time to the Pauletta and Denzel Washington Family Gifted Scholars Award in Neuroscience, given annually by the Department of Neurosurgery to support two aspiring scientists.
Keisha Nash-Whitaker
– Model, philanthropist, active mother of four, and wife of Academy Award-winning actor Forest Whitaker. Keisha has worked diligently to enlist the support of high-level figures in the entertainment industry in the creation of projects such as The Johnnie L. Cochran, Jr. Brain Tumor Center. One such supporter is Forest, whose grandmother was treated by Black after being diagnosed with a brain tumor several years ago.
Source