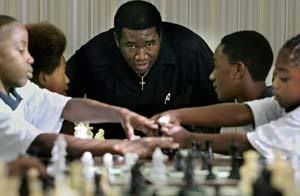 Via press release:
Orrin 'Checkmate' Hudson
is embarking on a cross-country mission to help at-risk youth make better life decisions using a very unusual tool: a chessboard. Starting in the Baker School District of Louisiana, Hudson, former Alabama State Trooper, author of "
One Move at a Time
" and the founder of
Be Someone
, has made it a personal goal to visit all 50 states teaching students the game of life using chess as a metaphor.
Hudson spearheads the organization's charge to fulfill its mission - to build character, hope and inspiration among disadvantaged youth and individuals, allowing them to set and achieve lifetime goals, realize their full potential and 'Be Someone.'
The seventh of 13 children, Hudson grew up in public housing in Birmingham, Alabama, finding himself in-and-out of foster care. As a teenager, he was stealing tires and struggling in school until James Edge, his high school English teacher, taught Hudson the game of chess. "With his help, I began to understand life through a chessboard. He showed me that every move you make has consequences and in order to improve my game and my life, I had to make better choices," says Hudson. "I slowly realized that I was responsible for my own success or failure."
In 2001, Hudson learned of an incident in which seven Wendy's employees were shot, five of whom died - for a mere $2,400. It was this tragic incident that inspired Hudson to quit his job and use his life savings to found Be Someone, a not-for-profit organization designed to raise self-esteem while teaching responsibility and analytical thinking skills to at-risk children.
Hudson shares, "Due to the recent economic downturn, we have seen a rise in crime nationwide and I want to make sure that every child chooses to think it out, rather than shoot it out. It is more important than ever before to teach the youth of America that success is not measured by dollars," said Hudson. "Through chess, I'm able to teach children to push pawns instead of drugs and help them make the moves that will improve their future."
Now, Hudson travels the country mentoring children to value KASH - Knowledge, Attitude, Skills and Habits - over cash. Since its founding in 2001, Be Someone has touched the lives of over 20,000 students across the country and has had amazing success with increasing grade point averages, classroom participation and attendance through the mantra 'Heads up, pants up, grades up and never give up.'
Hudson hopes the success of Be Someone will inspire others to volunteer their time and money to this important cause. "When good people fail to act, evil prevails," said Hudson. "Investing in the youth of today is one of the best ways I've found to ensure a better tomorrow."
By 2015, Be Someone hopes to have made a difference in close to one million students' lives. If you are interested in donating, volunteering or learning more about Be Someone, please visit
http://www.besomeone.org./
Source: PRN press release
Photos: Besomeone.org; NewsATL