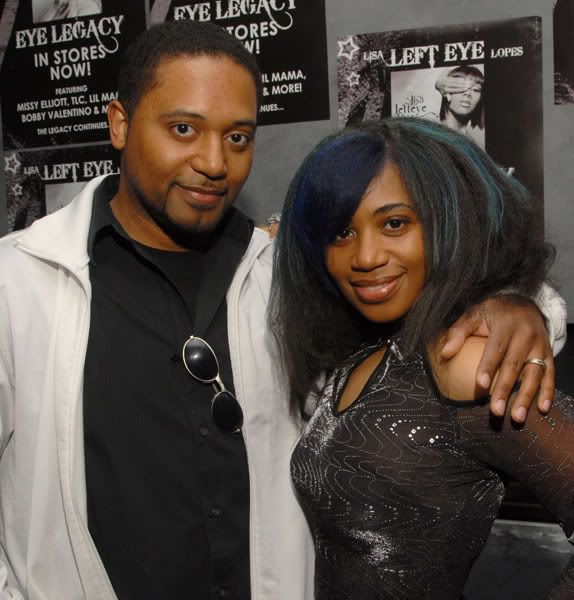 Ronald Lopes, Executive Director of the Lisa 'Left Eye' Lopes Foundation, and Reindrop Lopes attend the foundation's LA benefit party, March 10, 2009 at Blue Velvet Restaurant and Lounge
February 23, 2009/TLA PR:
Campaign for the Arts
, a new initiative founded by the recording artist 'Digit', has announced their nationwide initiative to keep the arts in schools. Partnering with the Campaign on this initiative is the
Lisa Lopes Foundation
(LLF), an organization which is named after Lisa "Left Eye" Lopes, former TLC member and legendary artist.
Campaign for the Arts was created to promote artists of all genres, raise money for schools and non profits, and focus on providing solutions to issues that are plaguing our nation and youth, while teaming with people worldwide to collectively help save the arts in our schools.
"As a business leader, artist, and someone who has benefited from community art programs, I understand leadership, teamwork and the importance of protecting and educating our youth through social initiatives and creative arts. My background has given me a great understanding of the value of investing in our future," stated "Digit," Founder.
Recording artist 'Digit' with guest Owen, at the LA benefit party
"Our goal is to raise $150,000 by May 1, 2009 and continue raising funds thereafter. With the support of our team and generous sponsors, we can meet our goal and launch the most memorable movement ever for arts in education," he added.
Events given by "The Campaign" will be hosted by the Lisa Lopes Foundation and a portion of all proceeds raised will go toward the foundation. Additional proceeds will go toward the charities and schools chosen to participate as a partner in individual states. Non profit organizations and schools will be chosen based on their level of commitment, current programs and through the recommendations of their sponsors. Visit
http://www.campaignforthearts.com/
for more information.
Pop singer Nadeea, Ronald Lopes, singer Lil' Mama and Reigndrop Lopes
Source and photos: TLAPR /Wireimage