Today is National Women and Girls HIV/AIDS Awareness Day. It's a nationwide initiative to raise awareness of the increasing impact of HIV/AIDS on women and girls and encourages ladies to take action.
In observance of this day, two female bloggers,
Karyn Brianne
of
The Fabulous Giver
and
Luvvie
of
Awesomely Luvvie
, have created
The Red Pump Project
, to bring awareness to this initiative by enlisting the support of fellow bloggers, to help spread the word. Their concept is simple: Rock the Red Pump on your blog to represent the strength and courage of women fighting HIV/AIDS or affected by the disease both directly and indirectly. Over 90 bloggers have joined this effort, including myself.
On the Red Pump Project's official
blog
, it states that while progress has definitely been made in the areas of AIDS prevention and treatment, women still represent 27% of all new AIDS diagnoses, with African-American women accounting for 66% of that group.
The National Women and Girls HIV/AIDS Awareness Day is coordinated by the Office on Women's Health as an opportunity for organizations across the country to come together to provide support, encourage discussion, and educate women and girls about prevention, the importance of getting tested, and how to lead a normal, healthy life despite being infected.
If you're in Chicago, Karyn and Luvvie are hosting a happy hour fundraiser tonight at Plush Restaurant and Lounge, 1104 W. Madison, 6:30 - 8:30pm. The fundraiser will benefit the Chicago Women's AIDS Project, the only organization in Chicago solely dedicated to providing gender-specific HIV prevention and care services to women at risk. Ladies, wear your red pumps! Guys, wear a red shirt!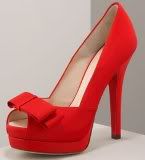 I'll be there in spirit, so here's my red pumps I'm rocking today (taking a cue from Karyn's blog and her fashion picks) - Fendi's double platform bow pumps! Visit the
blog
for Red Pump Project fundraisers in other cities.
Great job ladies!
Get your t-shirt
here
.