Million Dollar Program Inspires Students At Nation's Historically Black Colleges and Universities to Pursue Careers as Science and Math Teachers

On February 23, 2009 during Black History Month, the Siemens Foundation announced the winners of the 2009 Siemens Teacher Scholarships in collaboration with the Thurgood Marshall College Fund (TMCF) and the United Negro College Fund (UNCF). The program provides recognition and financial support to students at historically black colleges and universities (HBCUs) who plan to become science or math teachers. (In photo above: Jeniffer Harper-Taylor, Vice President of the Siemens Foundation, center, with 2008 scholarship recipients)

"Considering our new administration's call to improve science, technology, engineering, and mathematics (STEM) education, our programs to promote the growth of teaching careers are more pertinent than ever," said Jeniffer Harper-Taylor, Vice President of the Siemens Foundation and graduate of Southern University in Baton Rouge, LA, one of the country's 105 HBCUs. "By providing the tools and resources to students who have expressed a genuine interest in teaching math and science, we get a step closer to increasing the number of teachers and role models for our next generation of leaders," she said.

The Siemens Foundation has provided $1 million in scholarships to support undergraduate and graduate students through the Siemens Teacher Scholarship program. The funds are awarded and administered by TMCF and UNCF. This year, 29 students will receive scholarships. HBCUs play a vital role in meeting America's need to increase and diversify science teaching professionals.

On January 5, 2009, brothers Joshua and Adam Wright, seniors at Morehouse College in Atlanta, Georgia, conducted a Siemens Science Day for five classes of fifth graders at University of Chicago Laboratory School, the former school of President Obama's daughters, Malia and Sasha. The future teachers worked together to instruct each class on the process of photosynthesis. As Adam Wright, a computer engineering major said, "My Siemens Science Day presentation was one of the most enjoyable experiences in my short lifetime. Interacting with students who were eager to learn about plants, sun and energy was very encouraging for the future."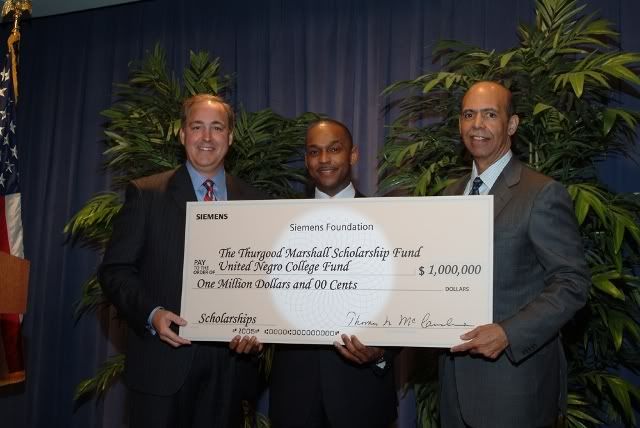 George Nolen, president and CEO of Siemens Corporation, Dwayne Ashley, president and CEO of Thurgood Marshall College Fund, and Michael L. Lomax, president and CEO of United Negro College Fund

Many Siemens Teacher Scholars gain their first interactive classroom teaching experience through the Siemens Foundation's Siemens Science Day program (http://www.siemensscienceday.com/), a nationwide initiative in partnership with Discovery Education that has reached more than 50,000 elementary and middle school students since its inception in 2006. By participating in Siemens Science Days, Siemens Teacher Scholars are able to share their passion for math and science and gain a unique and concrete teaching experience.

Lindsey R. Rutledge, a scholarship recipient and sophomore attending Howard University, said: "I truly believe that my destiny is to work with youth as an educator. I believe that becoming a teacher is a special calling and should not be viewed as 'just a job.' Teachers must want to add to the students' educational experience. They must be sensitive to any challenges students may have; this special position just does not begin and end with the ringing of the school bell. You must be passionate about being a teacher."

About the Siemens Foundation
The Siemens Foundation provides more than $7 million annually in support of educational initiatives in the areas of science, technology, engineering and math in the United States. Its signature programs, the Siemens Competition in Math, Science & Technology and Siemens Awards for Advanced Placement, reward exceptional achievement in science, math and technology. The newest program, The Siemens We Can Change the World Challenge, encourages K 12 students to develop innovative green solutions for environmental issues. For more information, visit http://www.siemens-foundation.org/

Source/Weber Shandwick