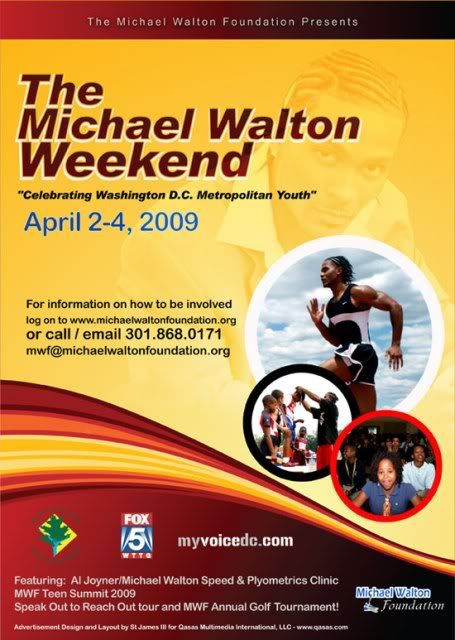 Michael Walton is a world-class, professional track and field athlete with a heart for guiding young lives and a passion for community activism. He founded his organization in 2002 to fill the needs of the Washington, DC and Prince George's County, MD communities by providing additional opportunities for youth to grow and develop, while applying their energy to productive pursuits.
The Michael Walton Foundation
(MWF) is hosting a series of events April 2-4, 2009 in the Washington, D.C. area.
On Friday, April 3, 2009, join MWF supporters and celebrities for their annual golf tournament at the Courses at Andrews Air Force Base in Prince George's County, MD. Visit
here
to purchase tickets.
On Saturday, April 4, 2009, D.C. youth ages 8-18 can participate in a free speed and plyometric clinic with Al Joyner and Michael Walton, 8am-12 noon at Coolidge High School, 6315 5th Street, NW in Washington, D.C. For more information, contact Edgar Sams, 202-671-0395.
For more information on the foundation and a teen summit event on April 4th, visit the website at
http://www.michaelwaltonfoundation.org/
.
{Thanks Thelma and Michael}